Education Trends
Too Much Technology and Not Enough Learning?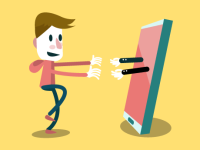 I was reading the book The Smartest Kids in the World by Amanda Ripley and couldn't help wondering what our schools would be like today if we were forced to teach without the technology (including copy machines). She describes three school settings in South Korea, Finland and Poland as being devoid of the technology U.S. teachers take for granted, and how, especially in math and science, their best students outperform our best students by a wide margin. I agree with the premise of her book: good teaching and high expectations make the difference, and technology is icing on the cake. My concern is that we are at a point where our students spend more time using technology and less time actually learning.
Maybe There Isn't an App for That
Yes, I know, there are other factors that contribute to their better score on the Program for International Student Assessment (PISA) -- longer school days, advanced science and math starting earlier in elementary school rather than high school, extra tutoring in Korean hagwons, less to learn with a more focused curriculum, no non-essential learning activities such as sports, home ec or computer applications courses. Even controlling for those things, their best and brightest outperform ours. Yes, I know, some might ask, "At what cost?" But that is another point we can discuss later. What I am getting at is that our student learning is so diluted by bountiful resources and access to all types of knowledge and learning activities that our students are underwhelmed with learning. The only students challenged in the U.S. are the AP and International Baccalaureate, and even then we have a hard time getting to the most important things.
For example, we have all experienced the "app" mania and are sick of hearing, "Is there an app for that?" Here is a new distraction: why don't we encourage students to use valuable time for "learning" through social media? After all, they already spend hours of their time on Facebook, Twitter, Instagram and myriads of other social media sites.
To answer that question, I feel similar to Harrison Ford who played Colonel Graff in Ender's Game when Ender asked why the email was not being sent. Graff stated that the cadets had freedom as far as their personal thoughts were concerned, but he would not allow "unfiltered communications" which the family (and others) might not understand and would distract the cadets from their original mission.
Just Plain Learning
I have to tell you that I have a hard enough time filtering the communication that comes out of students' mouths in the classroom, let alone what they text or write to their buddies out of the classroom. While Facebook has a really cool knack for helping people stay in touch with each other and their lives, it takes a considerable amount of time, not only to participate, but to review what all the other people are doing. Filtering out what is useful from all the pointless blather takes more time. Now, if the communication is attached to a project, as in collaboration via Evernote, Assemblee or FieldNotes, then I can see a purpose and a reason to share thoughts with each other, but that could be done just as easily face-to-face -- which is more powerful still. Of course, if geographically disparate groups of students need to collaborate, technology certainly can help, but even still it can never fully replace face-to-face interaction.
If we want our students to do better, I think we can take a lesson from the countries that are cleaning our clocks on the fairly easy PISA, which is designed to test thinking. Sometimes I wish I could go back to the days of chalk boards and overhead transparencies, not just to simplify teaching and learning but to minimize distractions and focus on what is really important -- just plain learning. Any ideas on how to do that? I would love to hear your successes in getting back to the basics.