Education Trends
Tear Down That Wall: Joining the Global Classroom Community to Instill Global Citizenship
Guest blogger, traveler, teacher and speaker Adam Carter introduces three web-based platforms for connecting classrooms around the world, which he calls the first step in the hands-on communication and collaboration of global citizenship.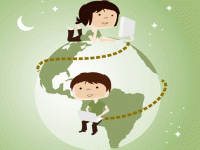 Instilling "global citizenship" in students is essential to prepare them for our rapidly changing world. Being a global citizen goes well beyond simply traveling or living in another country. It refers to a more holistic view of the world, understanding the commonalities we share and recognizing our responsibility to help our fellow man and safeguard our planet's future. Schools have grappled with how best to facilitate this skill set, but a model has recently emerged thanks to some forward-thinking global collaboration projects that incorporate digital tools and a fresh perspective to break down the walls of the classroom. By focusing on pertinent social issues and cross-cultural understanding, students are able to learn about these other cultures and also become activists as they collaborate with other students from around the world to become global citizens and achieve positive change.
We can all agree these are welcome advances, but the question is how can schools -- each with its own budgetary constraints, time issues and tech limitations -- hope to achieve these lofty goals? Fortunately, a number of web-based platforms and educational programs have emerged in recent years that were designed with these goals in mind.
International Education and Resource Network
One of the most prominent of these platforms (composed of 30,000 schools and youth organizations in more than 140 countries) is iEARN. They offer a wide range of global projects for students from elementary through high school based on different subjects, such as science, social studies and math. Throughout the range of projects, one central question always remains part of the dialogue: "How will this project improve the quality of life on the planet?" iEARN's 15-week Learning Circles project is the most comprehensive of their offerings. These highly interactive, project-based partnerships bring schools from around the world together to address educational, environmental or social issues. The teams work together to focus on media creation and then present their findings to the other schools. iEARN also offers face-to-face and online professional development courses for educators interested in becoming comfortable with these types of projects.
Going Global
Another major player is TakingITGlobal for Educators. TIGed uses technology and social issues to engage students and connect them with other schools through international learning projects. In doing so, they seek to empower classrooms to understand the issues and collaborate to find solutions for some of the world's greatest social issues. Through their online portal, TIGed assists teachers to incorporate technology to "create transformative learning experiences for their students." All of their educational resources are free for teachers, and these platforms bring diverse perspectives on social issues into the classroom. Teachers can also enroll in free e-classes that allow them to create lesson plans and connect with international learning projects, electronically uniting schools from around the world. In order to create globally aware students, TIGed focuses on three strategies:
Global citizenship
Environmental stewardship
Student voice
They currently draw upon almost 65,000 students in 4,500 schools in nearly 150 countries. One of the benefits of TIGed is the way they not only unite schools, but also add exclusive content to the dialogue through live webinars with guest speakers, virtual classes with graduate school mentors and international video conferences with experts in the field. Their Global Encounters projects, DeforestAction and Sprout (Social Innovation) are just a few of their fantastic programs.
Learning While Doing
A newer addition to the game, but no less impressive, is Flat Connections, created by Australian educator Julie Lindsay, which unites schools from around the world to participate in global collaborative projects. In some cases, each school forms its own team, like their Global Youth Debates, which can be asynchronously conducted between schools around the world. Their Global Project, on the other hand, creates heterogeneous teams of students from different schools that are able to collaborate instead of competing against each other. Each of these six-month projects focuses on current events or real-world topics. Teams do their own research and create ongoing blog posts that include audio or video components and forum discussions. Using tools such as wikis, blogs, social bookmarking sites and media creation programs and apps, they then develop a written collaborative eBook as well as a personal multimedia response to the theme. Flat Connections also offers professional development courses for teachers to become versed in the tools and techniques needed for implementing successful global projects in the classroom. In addition, they offer conferences where students and teachers can come together and practice their collaboration.
All of the programs mentioned here are free to participate, and while access to basic classroom technology is required, in many cases, a simple Internet connection with access to blogs, wikis and Skype is sufficient. These programs can be integrated into present curriculums (as part of science, IT or social studies classes, for example) or designed in an extracurricular space. Once students become connected with stimulating projects that reach around the globe, they become more engaged with the learning process and gain a valuable understanding about the world as a whole and their role in a global society.