Literacy
Teaching Poetry of the Immigrant Experience
"I'm From" poems, multicultural poetry collections, and the poetic artifacts of immigration history can teach valuable language arts as well as the rich tapestry of American culture.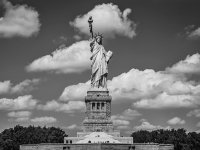 Engraved on an interior wall plaque of the Statue of Liberty's pedestal, immigrants to the United States have found these words from "The New Colossus" by Emma Lazarus:
Bearing witness to the immigration experience through poetry can be empowering and powerful for students. Throughout history, new arrivals have penned their hopes and fears in poems about coming to America. They come for a variety of reasons -- to work, to reunite with family, to get an education, or sometimes in search of safety and freedom. Poems of an individual experience lend themselves to a discussion of some universal immigration themes. What motivates a person to leave his or her home country? How welcomed do they feel when they arrive? What are their challenges and celebrations?
Bringing poems about the immigration experience into the classroom engenders cultural understanding and empathy. It highlights the human aspect of immigration often occluded by political rhetoric, and it engages youth voice. What follows are six ways to teach poetry of the immigrant experience in the classroom.
1. Write "I'm From" Poems With Students
"I'm From" poems traditionally convey information about the speaker's background. As a writing activity, these poems build understanding about multiculturalism and immigration. When I wrote "I'm From" poems with my students, I wrote my own as a model in addition to reading a poem by George Ella Lyon with students. I then asked them to begin writing their own poems that would include details about their family and culture. If they got stuck, they could write from the sentence starter "I'm From" again. After finalizing their poems, students selected their favorite lines to make a communal class poem. We played with the order and the look on the page, and we made strategic choices as to line placement, syntax, and imagery. Everyone had a voice on the page and a piece of America's immigration past to share.
2. Use Multicultural Poetry Picture Books
Students learn to write well by imitation and frequent modeling, and poetry is no different. They also expand their sense of a topic like immigration by listening to different experiences. Using multicultural poetry picture books is a great way to engage younger learners.
This excerpt from Francisco Alarcón's "Bellybutton of the Moon/Del Ombligo de la Luna" encourages readers to reflect on their heritage. Multicultural poetry books embolden readers to reflect on their own family heritage, traditions, and culture. Additional immigration-themed poetry picture books can be found on the website of children's book publisher Lee & Low.
3. Host Community-Building "Read-Alouds"
Invite students to read aloud poems about the immigrant experience or poems that they've written. Use these tips from former Poet Laureate Billy Collins to teach students how to read poems aloud. Not only does this activity improve speaking and listening skills, but you can also guide students in a discussion on cultures and immigration experiences.
4. Hold an Immigration-Themed Poetry Competition
For 19 years, the American Immigration Council has run the Celebrate America Creative Writing Contest where fifth-grade students write to the theme "Why I'm Glad America is a Nation of Immigrants." Of the 4,500 entries received annually nationwide, many of them are poems. Students are motivated to find out about their own families' immigration experiences and those of others around them. Seek inspiration from these fifth-grade students to build a competition, and consider joining the contest next year.
5. Reflect on Intersections of History, Immigration, and Poetry
Emma Lazarus' words aren't the only poem inscribed on a national monument related to immigration. For immigrants detained at the U.S. Immigration Station at Angel Island in San Francisco Bay, poetry was a critical outlet, and we can still see their thoughts and feelings written on the walls that blocked them from entering the United States. This anonymous poem carved into a barrack wall represents the vehicle of expression that detainees used to combat isolation, alienation, and silence: