Professional Learning
Teachers: Finding Appreciation at Work
The daily demands on teachers can be intense and incredibly taxing yet acknowledgement of all the hard work can work wonders for helping with stress management.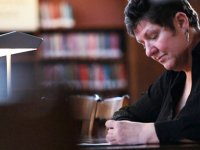 With Thanksgiving coming up, as well as International Coach Appreciation Day (November 4), I've been thinking about how we express gratitude. One of the primary complaints I hear from teachers is, "I just don't feel appreciated" (echoed often also by principals and other administrators in our school system). So many of those working in our schools don't feel appreciated -- and one luncheon or certificate per year just doesn't cut it.
The daily demands are so intense and taxing that we all need more acknowledgement of our hard work in order to manage some of the stress we're under: The acknowledgements help us feel seen, help us focus on what we need to do more of, and help us feel as if we're having an impact -- which is what all educators in schools want. These feelings build our emotional resilience helping us manage stress and rebound from setbacks.
Suggestions for increasing appreciation in your work life:
1. If you don't feel appreciated appreciate someone else. Yes, you read that right! Go out of your classroom or office and find someone else in your school whom you appreciate: perhaps the custodian who keeps your room so clean, or the administrative assistant who answers the phone and greets parents all day long, or a veteran teacher whose knowledge and understanding of the community you work in has been helpful to you.
Find someone and just express a few words of gratitude -- in person or perhaps in a note. A simple, "Thank you for what you do," will suffice! And while you do this, notice the feelings that come up as you genuinely appreciate another for his or her contribution to your school.
2. If you don't feel appreciated by your principal, say this to him or her: "One of the things that's hard for me is seeing the full impact that I have on our school. It would be tremendously helpful to me if you could share some of your appreciations for me more often. I'd really like to hear what you think I contribute to our community." Your principal may be very grateful to you for expressing your needs.
3. And then, appreciate your principal for something: "I'd like to share, right now, that I appreciate you having this conversation with me. I appreciate that you're open to feedback. I appreciate so many things that you do for our school and I recognize you may not get a ton of appreciation either." Your principal will definitely appreciate this!
4. Consider the range of people you can appreciate for their contributions to your work life: colleagues, supervisors, former teachers, students, their parents, and so on. Send them a mental appreciation naming the things you're grateful for.
5. Then appreciate yourself. If you are so inclined (you could even do this right now!) Close your eyes and acknowledge everything you do in the service of children. Talk to yourself, name what you appreciate about yourself, feel these appreciations sinking into your body, feel how you feel appreciating yourself. Say what you wish others would say to you. Try doing this at the end of every day for a week and see how your feelings shift.
Go Forth!
Expressing appreciations is perhaps even more important than receiving them: It's good for our brains, our hearts, and our perception of our world. Try it. Just for a few days or a week and see how you feel. And on November 4, if you've worked with an instructional or leadership coach or any kind of coach, and if there's a coach in your building, appreciate them! This is a relatively new Appreciation Day (ok, I'll confess: I declared this day a year ago because coaches are so under-appreciated) and an opportunity to recognize their hard work.
And finally, I'd like to take this opportunity to appreciate all of you. I really value your comments here and on Facebook, the messages I receive from readers, and your warmth when I meet you. Thank you.