Professional Learning
Online Teacher Book Clubs: Promoting a Culture of Professional Development
Starting an online book club for teachers at your school can promote professional development and teamwork through introducing new ideas without impacting everyone's already-busy schedule.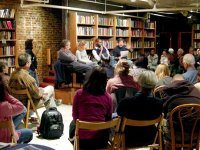 Creating a culture of sharing and professional dialogue is an essential element for school success. Teachers who read, discuss, and implement current educational research are more engaged and ready to take on the challenges in their classroom. But the reality is that teachers lead busy lives, making it difficult to find time for these valuable discussions. Learn how creating an online book club for sharing ideas can invigorate teachers and encourage professional reading and conversations. One advantage is that a blog is always available anywhere that a teacher has web access.
Getting Started
There are a number of things to consider before you start your online book club. What book or article would you like to discuss? Will you involve the entire staff or a small group of teachers? What site will you utilize to host your online conversation? Who will be the moderator? Setting up a book club is quite simple. Just follow these basic guidelines and make adjustments to best meet the needs of your school community.
Step 1: Select a Book
Is your school launching a new program or initiative? That may be a great place to start. Purchase books for the teachers. Maybe you could draw on a professional development fund, since the online book club is definitely a strategy that encourages professional growth. If funds are not available, you can find free educational articles online or purchase a few copies of a book to place in a professional library for teachers check out and share.
Step 2: Establish and Share a Schedule
Choose a start date, and create a reading schedule for your chosen book or article. It's important for all members of the book club to be ready to discuss chapters or sections at the same time. While quick readers may read ahead, a schedule allows everyone to stay focused on the topics to be discussed for each online post. A strategy that has worked for our school is for the group facilitator to post a weekly discussion topic on the blog. Some teachers will be new to blogging and book clubs, so the weekly question serves as springboard to guide their responses to the text. Set the tone for an online culture that accepts all ideas and encourages teachers to elaborate on how they are using this new information to make a difference in their classroom.
Step 3: Choose an Online Hosting Site
There are a number of free blogging sites for educators. If you plan to create an online book club for your school, explore a few options before you get started. First, check with your administrator or technology department to see whether your school is already subscribing to tools that you can use. Does your district have an existing website or blog that could work as a hosting site? You may want to host the book blog on another site if the content wouldn't be relevant for the entire school community (parents, students, etc.) We chose Weebly as the hosting site for our online book blog, and we didn't connect it with our school website because we wanted a safe place for teachers to share their ideas and reactions to a book that wasn't pertinent for parents and students. Edublogs, Wix, and Wordpress are just a few sites that you can visit to create your own free online space. The Educational Technology and Mobile Learning website is a great source for more ideas.
Tips for the Moderator
The success of your book club and blog will increase if you have a moderator. His or her main role is setting up and overseeing the blog. Many books have discussion guides that can be purchased or downloaded online. These guides assist the moderator with creating discussion topics to post. He or she will post discussion questions that follow the schedule shared with teachers, and respond to questions on the blog or in person if a teacher is having trouble adding a comment. Periodically, set up a face-to-face meeting before or after school, or even during lunch, where teachers can share their ideas in person in addition to the conversations that have occurred online.
Book Ideas
Here are a few books that have been successful for us. The possibilities are endless!
What Great Teachers Do Differently: 17 Things That Matter Most by Todd Whitaker
The Core Six: Essential Strategies for Achieving Excellence with the Common Core by Harvey F. Silver, R. Thomas Dewing, & Matthew J. Perini
The Leader in Me by Stephen R. Covey
Outcomes
Teachers will participate a multitude of ways when you establish an online book-sharing community. Some teachers will post every time a new discussion topic is shared, and some will monitor the posts of others and only post occasionally. We found that our teachers were motivated and inspired to share and try new strategies.
Does your school have an online book club? If not, how do you think your team might benefit?