Project-Based Learning (PBL)
Not My Father's Shop Class: Fusing Career Tech with College Prep
Edutopia's latest Schools that Work installment is an in-depth look at an innovative model.
In the late 1970s, when I moved into my very first apartment at the start of my junior year in college, my father gave me a gift. It was a gift fit for his daughter -- a box of nails, and a hammer to pound them with, pliers, a set of wrenches, a flat and a Phillips screwdriver, and a manual drill, all neatly arranged in a blue metal toolbox. The handsaw, being too large for the box, was packaged separately.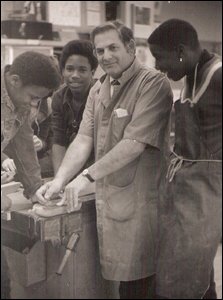 Murray Baron teaching industrial arts at PS 218, New York, NY in the early 70s. Credit: Unknown
Over the past 30-plus years, I've used those tools to hang art, assemble cheap furniture and trim tree branches. There was one year, during meager times after grad school, when I used a bent screwdriver to bypass my car's erratic starter. My college-educated guy friends were impressed.
My father knew how to select quality tools and he made sure that his children - two boys and two girls - knew how to use them safely. For more than 30 years, he taught industrial arts - or shop, as it was known in the day - to junior high school boys in the New York City public school system. It was a time when all the boys took shop class, while the girls learned to sew and make jam in home economics. In my home, my dad expected that all four of us would attend college and be comfortable around a workbench. But, by the time my father's students entered high school, taking shop meant being on a track to a skilled blue collar or trade job -- construction, automotive, plumbing. By and large, the boys learning to assemble car engines in the garage behind the school, didn't cross paths with the kids learning trigonometry or reading Hemingway.
Most of the new policies failed to make any lasting improvements. But one reform is showing positive, research-based results. Career academies and career pathways are reinventing vocational education by merging it with a rigorous academic curriculum to prepare all students for both college and careers.
In the 1950s, 60s and 70s, when my father was teaching, shop was still the domain of boys who weren't headed to college. But my dad was ahead of his times. Just as he taught his college-bound daughters to measure twice and cut once, he encouraged his students to think beyond shop class. My favorite story of his was about a boy who was such a good artist that it took a long time before he was nabbed for counterfeiting. My father persuaded the boy to transfer his talents to the legitimate art world of advertising.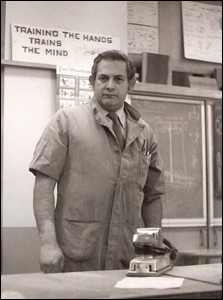 Murray Baron teaching industrial arts at PS 218, New York, NY in the early 70s. Credit: unknown
If they were enrolled in today's career academies, those boys would have a world of options after high school: from four-year and community colleges to professional certification in everything from welding to dental hygiene. What's more, the evidence shows that students in these programs who are considered at risk, are more likely to stay in high school and will increase their earning potential once they're in the work world.
The latest installment of Edutopia's series, "Schools That Work", goes inside several of California's best career academies and pathway programs for a first-hand look at what makes them successful. There are tips and downloadable guides, practical advice, and videos that show how to get started on a high school transformation that some are calling the first comprehensive high school reform in more than century. Hammers are welcome, but not required.
-- Kathy Baron, Edutopia Features Producer and Research Editor
School Snapshot
Grades 9-12 | Elk Grove and Los Angeles, CA
0
Per Pupil Expenditures
Free / Reduced Lunch
86%
DEMOGRAPHICS:
69% Hispanic
16% Asian
13% White
2% Black
The above demographics are for Bravo Medical Magnet High School. The demographics for Elk Grove Unified School District are as follows:
26% Hispanic,
25% White,
23% Asian,
18% Black,
6% Filipino,
2% Pacific Islander,
1% Native American
Data is from the 2008-2009 academic year.