Assessment
What Parents and Educators Want from Assessments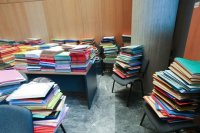 Our national obsession with assessment continues. Despite their rhetoric expressing concern about the role that standardized tests play in our education system, politicians persist in valuing these tests almost exclusively when it comes to accountability -- not only for schools, as has been the case since the inception of No Child Left Behind, but for teachers as well, with a national push to include the results of these tests in teacher evaluations.
Many education organizations are vocal in their opposition to the emphasis on standardized tests in current policy, believing that they narrow curriculum, cost too much, and are of little use in improving student learning. Critics of these groups counter with the argument that educators are a lazy group that simply doesn't want to be held accountable for their work.
But another group of stakeholders shares many of the same values on assessments that educators do -- a group that it is hard to characterize as disinterested in accountability: Parents.
A survey commissioned by the Northwest Evaluation Association (NWEA) and conducted by Grunwald Associates earlier this year looked at the views of parents, teachers and district administrators on assessment in education -- and found that in many ways, the views of all three stakeholders are aligned.
Zoom In and Zoom Out
As the report puts it, there is a sense among both parents and educators that assessment systems need to simultaneously zoom in and zoom out.
They need to zoom in by focusing on individual student learning, progress and growth over time. These are among the top priorities of all three stakeholder groups surveyed.
They need to zoom out by measuring student performance in a full range of subjects (not just English language arts (ELA) and mathematics), as well as higher-order thinking skills. For example, 92 percent of parents say that it is extremely or very important to assess problem-solving skills -- more than those who say the same about measuring performance in ELA (though 90 percent do believe that is extremely or very important). Eighty-nine percent of parents also think it is extremely or very important to assess critical thinking skills, and 88 percent say the same about communication skills. Very significant portions of teachers (89 percent, 88 percent and 77 percent for those three skills, respectively) and district administrators (95 percent, 95 percent and 90 percent) also find measuring those higher order-thinking skills to be extremely or very important. Unfortunately, current assessment systems, which focus on multiple choice and fill-in-the-blank or short answer questions, don't adequately do so.
Useful, Actionable, and Relevant
The survey also found that parents, teachers and administrators share similar views on the perceived value of different kinds of assessments.
After providing definitions of formative, interim and summative assessments to respondents, all three groups of stakeholders found formative and interim assessments more aligned to their priorities than summative. For parents in particular, formative and interim assessments provide the actionable information about their child's progress that they crave, as well as having what they believe to be a greater positive impact on instruction. Teachers and district administrators also find these assessments more valuable than summative.
Formative and interim assessments also provide feedback in a timeline consistent with what parents want. Sixty-seven percent of parents completely or somewhat agree that formative and interim assessment results are delivered in a timely manner (compared to 50 percent for summative results). If assessment results take more than a month to reach parents, 43 percent of them consider the results no longer useful or relevant.
Comparing Students
One area of disagreement between educators and parents on the value of assessment comes with comparing students. Forty percent of parents report that comparing their child to others in the district is extremely or very important, and 32 percent say the same about comparing their child to students outside the district (and they give the edge in doing so to summative assessments over formative or interim). But just 4 percent of teachers and 14 percent of district administrators believe that comparing students within a district is important -- and just 4 percent and 11 percent, respectively, believe the same about comparing students to others outside the district.
What Next?
Knowing what both parents and educators want from an assessment system, it is clear that we currently are not providing it. However, as the report points out, no one type of assessment will. It ends with recommendations on how we can create new comprehensive assessment systems that incorporate the desires of parents and educators. With the changing landscape of education -- including the imminent arrival of the Common Core State Standards and the new assessments needed to measure progress towards them -- the time is right for a reevaluation of assessment systems. Hopefully this time, policymakers and developers will consider what those most directly impacted by the system want from it.
Photo credit: Veer