Literacy
How to Start a Great Writing Center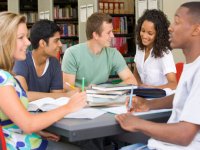 As a high school student at Brimmer and May, an independent school in Chestnut Hill, Massachusetts, I spent many helpful hours in the writing center. Rather than line edit my work with the all-intimidating "red pen" (a badge of honor for many teachers), talented staff members posed deep, prodding questions to help me realize how I could improve my prose, structure, and analysis.
In assuming my new position, I'm keeping the following points in mind.
1. A Place for All
A writing center is a place for all writers of all abilities, and writing center tutors are often writers of all abilities themselves. "It can't be seen as a place of remediation," Kent says. To help get this point across, teachers should require students to submit a draft (or multiple drafts) through the writing center. This also reinforces the healthy fact that nobody, no matter his or her skill level, is beyond editing. The best writing centers also offer help to students writing lab reports, history papers, or anything else that calls for effective prose.
2. Don't Line Edit
An effective writing center tutor asks questions about the paper itself, and forgoes line editing. As Kent says, "That's the key ingredient, to make sure that this isn't the place for fixing a piece of writing. This is a place to discuss and look at a piece of writing and also to talk with the writer about her or his approach to it." The tutorial should revolve around back-and-forth exchanges, and helping the student think more deeply about effective writing. As I learned early on in my teaching career, nothing thwarts progress like pages filled with comments and corrections, which practically scream futility.
3. Advertise and Get Community Buy-In
Before launching a writing center, it's imperative to get buy-in from the whole community. What better way to accomplish this than by advertising around campus that the writing center's services will reflect how professional writing and revision is done? As Kent tells me, "All writers have first readers. That's the way of the world. We need to help students in schools, and faculty members and staff members, recognize that writing is a community affair -- that it's not done in isolation. I've written many books and many articles, and I have two editors that I work with all the time." More still, Kent tells me, the goal of high school is to help students prepare for the next level. "At the post-secondary level, virtually every college, university, community college, technical school, has some sort of writing center or learning center available," he says.
4. Tell Teachers They Need Not Suffer
No matter how dedicated or talented a teacher you may be, it's impossible to provide detailed feedback on every piece of writing. An effective writing center supports and streamlines your efforts to help students improve. "My model of an effective English teacher was to suffer," Kent says. "Everybody that I knew who taught English had a badge of honor that on a Tuesday night or a Friday night, they would walk out the door with a stack of papers and give up their lives for that night or that weekend writing marginal comments, scratching out this, bleeding on some student's paper. They would do 25 of them. In my case, I had 120 students. Taking home a stack of papers and then suffering. It's just not effective because, as I've said countless times, I could not be the primary editor or responder to my 120 students."
5. Offer a Writing Center Class
When Kent taught English at Mountain Valley High School in Rumford, Maine, he offered a Writing Center Class. "The course itself was a traditional English class," he says, "but part of the discussions that happened and part of the training that occurred focused on helping students be tutors for other people's writing. In other words, to help them become better editors of other people's work. We talked about the process of being a tutor. We talked about the questions we would ask. And then, once we were up and running, students would come back in the class, and I would say, 'Did any issues surface in the writing center this week? Did you run up against any problems that we need to discuss?'"
6. Don't Open Until You're Ready
Before Kent opened the writing center at Mountain Valley, he spent the first few weeks of that year training his editors. Eventually, he got it to the point where the center remained open the entire day. "Sometimes we were in our own private room. Sometimes we were in the back of my classroom when we began. We ultimately ended up in the library media center where students could pop in at any time during the day." It's nice to have a central location, but Kent also had his tutors float around, offering help in classrooms, the cafeteria, or even on the school bus.
Does your school have an effective writing center, or is it considering starting one? I would love to hear your thoughts in the comments section below.