Social & Emotional Learning (SEL)
SEL and the Common Core, Part Two: Why Emotion Vocabulary Matters
December 15, 2014
Updated July 7, 2015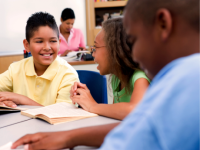 In my previous blog, "Connecting SEL and the Common Core, Part One," I wrote about how the Common Core (CCSS) has an implicit dependence on SEL-related pedagogy if we want our children to graduate being college, career, and contribution ready. Here, in part two, I focus on how emotional vocabulary is essential for academic and interpersonal success.
This past weekend, I was reading Dr. Seuss's great book, I Can Read with My Eyes Shut, to my almost-four-year-old grandson, Harry. At many points along the way, I pointed to characters and asked him, "How do you think they are feeling?" His responses were almost always on target (of course!) and he was also open to my pushing him a little bit, so that when I asked how else the star of the book, The Cat, might be feeling, he had an occasional answer and also acknowledged my suggestions.
For example, at one point, Harry became afraid when the young Cat was staring at some amazing-looking creature. When I asked him if he also might be surprised, Harry looked at the page and then agreed, and when I asked why, he came up with an answer of an almost four-year old.
But maybe the most important example was when Dr. Seuss had a picture in the story of a creature looking angry, and I asked Harry how he could tell that the creature was mad. Without hesitation, he pointed to the character's chin and said, "It's that chin." And so it was -- a very crinkled mouth and chin expression.
So I'm a proud grandfather. But what I was doing with Harry was self-consciously building an element of his social-emotional competence that has tremendous academic and interpersonal implications; I was helping to build his emotion vocabulary. In everyday life, Harry has to understand the emotional state of his parents, his teachers, his peers, and, though he has a lot of slack with them, his grandparents. But the world is not giving unconditional positive regard-levels of slack to everyone. So, Harry -- and every child growing up today -- needs to be emotionally literate, and this starts with vocabulary.
Vocabulary, a Common Denominator
The CCSS requires students to engage more deeply with complex text than most have dealt with in past schooling. But the task of "reading" also has additional challenges in that vocabulary must be clearly understood, not simply inferred from context, and the role and voice of the author and his or her perspective, and purpose in writing must be considered.
There will be more opportunities to write in reflective journals that include opinions and feelings about what one has read and discussed. Imagine how limited those reflections will be when students' emotion vocabulary is highly constrained.
Make no mistake about it: Vocabulary is important in every content area. Vocabulary does not simply represent the definitions of words. Vocabulary refers to the labeling of constructs, and often complex constructs, that are needed to understand an increasingly multilayered reality. Those writing about emotion vocabulary, emotion recognition, and emotion awareness all agree that the simplification of emotion -- using mad, sad, and glad as primary labels for the emotional states of self and others -- is highly problematic. Such simplification blurs nuances in relationships and situations that are important to understanding them clearly and navigating them successfully.
Further, our capacity to constructively think and act when we are "mad" is much more limited than when we are "frustrated," "puzzled," "annoyed," or even "put down," all of which are alternative and often more likely accurate labels to attach to situations than "mad."
Similarly, perceiving that one is "mad" at you (when, for example, they may be disappointed in you) forecloses possibilities that might be present with a more accurate emotion label. There are many behavioral implications of this, in and out of the classroom, and that is why the skill area of emotional vocabulary is such a strong focus of curricula for promoting social-emotional and character development.
In the Classroom
No matter what age student you teach, or what your subject area focus is, take steps to build your students' emotion vocabularies. You can do this formally, but you can also accomplish a lot informally, as I did with Harry:
When students are having difficulty, ask them for several ways to describe how they are feeling.
When students have disagreements, ask them about the other students' feelings and how they could tell how they were feeling.
Assign new emotion words for children to use explicitly in writing assignments.
Encourage students to widen their emotional reflection when they are reflective writing or journaling.
When reading or watching videos, pay particular attention to how authors and directors convey emotion, directly and indirectly, in words, pictures, gestures, settings, and sounds.
Please add your ideas to the list. We owe it to our students, and children and grandchildren, to help them build this essential skill for college, career, and contribution readiness.