Education Trends
Revisiting the Question of Violence in the Media
How does real violence in the media such as police shootings and terrorism "bleed" into the world of fantasy violence in games and movies? What can we do about it?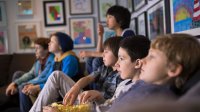 I really like going to see movies with my 12-year-old son. We both love the popcorn, the feeling of anticipation before the movie starts, and the stadium seating in front of a big screen, an experience which is increasingly uncommon these days of home theaters.
But this summer was a disappointing season for movies. I don't expect a lot out of summer releases, which usually consists of big-budgets and blockbuster-wannabes. Now, when a summer movie only makes $70 million, it's often considered a flop because the productions can cost hundreds of millions to make. It also was an awful summer for other reasons: for the bad vibes and senseless gun violence that has spiked recently. And as far as movies for my son's age groups, so-called tweens and young adults, they too have become increasingly violent.
An Increase of Violence in Films
Violence in movies is no longer part of the notational conversation as it was 20 years ago. Although the bar keeps getting lowered in terms of what is acceptable for a PG-13 film, we seem to have given up on doing anything about it.
Perhaps in these days of streaming entertainment and the huge variety of content found online, parents have both more choices, more information, and yet a slippery sense of control over what our kids watch. There is no longer a central place in our living room or set number of cable channels that can be blocked like 20 years ago; now kids can watch movies on their mobile devices from almost anywhere. Also, with the gaming industry now making more money than the film industry, much of our kids' attention is now focused entirely in this new genre of storytelling.
So I think we start the conversation again, and not just for the sake of our kids, but for the sake of our own sanity. Gun violence -- real violence in the real world -- has been making the headlines lately. This violence is often random in who it targets and seems to be aimed at causing as much death and injury as possible. It is often intended to get as much media attention as possible.
Violence in the media is no longer about fantasy violence, but real-life violence intended by the perpetrators to be played repeatedly on TV and to go viral online.  Even when the violence is unplanned and unforeseen, we now have so many smartphones and surveillance cameras out there to the point that we are now seeing violent acts -- for better or worse, that would have gone unseen just a few years ago.
The Dangers of Fantasy Violence
I don't want to get into the argument as whether fantasy violence in the media contributes to real-world violence (although most studies argue that there is a correlation), but what I can say is that it is getting harder to ignore the overlap of fantasy violence and real violence in the media. Fantasy violence has gotten much more realistic and graphic, and much of the real-world violence seems to be out to mimic the sensationalism and mayhem found in games and movies.  If one has not caused the other, it is undeniable that the two have formed an unholy alliance.
So, who is this plea to? Content creators? Consumers? YouTubers? Witnesses with smartphones? Perpetrators?
After thinking about it, I think we have to tell those who control much of the content we watch -- the fantasy content creators -- that we are increasingly uneasy consumers. Although we might be able to distinguish between what is real and what is fantasy, it is no longer easy for us to emotionally separate the fantasy from the real.
Even when it is easy in making the emotional separation, I am aware that I might have grown numb from seeing too much already. While watching fantasy violence, I can't help but have flashbacks of what I've witnessed in media of real-world violence, making the fantasy a lot more disturbing and a lot less fun.
So let's start the conversation again, and acknowledge that real-world traumas seen in the media have left us all in more or less a post-traumatic state of vulnerability and unease. If we step forward only with this acknowledgement, it might be enough to ease the pain perpetuated both in our stories and in the real world.