Culturally Responsive Teaching
Relationship Building Through Culturally Responsive Classroom Management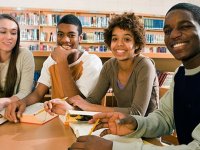 School behavior problems often originate outside of the classroom. For example, asthma is the number one cause of absenteeism. When asthmatics are unable to sleep at night, they miss class or arrive at school so sleep drunk and irritable that disruptive behavior ensues, getting them tossed out of class. Consequently, they fall more behind in classwork, which increases academic struggle. More outbursts and further truancy results.
Poverty and race nitro-accelerate the cycle. Compared to only 1% of white children, 17% of black children suffer from asthma because low-income African-Americans are more likely to live in substandard, allergen-dense housing. Also, they have less access to preventative medicine. And that's just one cause of classroom misbehavior.
Don't blame asthmatic students, their parents, or their teachers. Blame a brutal ecosystem that is riddled with the following inequities:
Society pays a high price for these inequities. According to data revealed at a Columbia University Teachers College symposium on "The Social Costs of Inadequate Education," dropouts die 9.2 years earlier than students who graduate high school and annually cost $4.5 billion in lost income taxes and earnings.
What can teachers do to reduce these inequities?
Take the Cultural Competence Test
Our perceptions and values might feel stable, but they're actually influenced by social forces. For example, you might be surprised at how different ethnicities respond to this prompt:
"Suppose you are on a boat with your mother, your spouse, and your child.  Suddenly, the boat begins to sink.  You determine that you can only save one of the other passengers.  Whom do you save?"
Of the U.S. citizens who answer the question, 60% decide to save their spouse and 40% save their children. In contrast, Asian populations assert that they would save their mothers nearly 100% of the time because you can spawn more kids and marry again, but you only get one mother. The point is that multiple cultures looking at the same problem often invent different solutions -- solutions that individuals without cultural competence would label as "wrong."
Cultural competence is the ability to successfully communicate and empathize with people from diverse cultures and incomes, skills needed to close the achievement gap, according to the National Education Association. Teachers, in particular, need to engage in on-going examinations of their attitudes about identity and cultures, and strive to minimize racial disparities.
To determine your cultural competence rank, complete the Cultural Proficiency Receptivity Scale.
Cultural Competence Begins With Relationship-Building
There is no way to memorize the social nuances of every subculture. So be curious. Ask questions of cultural brokers (individuals who can facilitate understanding between two cultures) and show students that you care. In their article, Classroom Management in Diverse Classrooms, authors Richard Milner IV and Blake Tenore interviewed a middle-school science teacher in a poor community:
To build rapport, talk directly to children outside of class, using their names. Also begin class by checking in -- asking kids how they're doing -- even if the misbehavior of the previous class reached biblical proportions.
Culturally Responsive Classroom Management
Culturally Responsive Classroom Management (CRCM) seeks to provide "all students with equitable opportunities for learning" by minimizing discriminatory school discipline practices that occur when the behaviors of nondominant populations are misinterpreted. A white paper on the topic, produced by New York University's Metropolitan Center for Urban Education, comprehensively explains the model. Meanwhile, here are some tips related to CRCM:
What positive classroom management techniques work in your classroom?
Monitor your discourse style. Indirect requests ("Would you like to let me finish reading the directions?") can confuse some children who are used to receiving explicit directives from their working-class parents.
Clarify expectations. If you put students into groups, for example, explain and model the difference between "helping" and "doing the work for" a partner.
Be sensitive to how diverse cultures deal with conflict. Many citizens of Asian countries avoid open conflict, believing that differences are best worked out quietly. Written exchanges might be preferred over face-to-face conflict resolution.
Emphasize a positive environment, not punishment. A study from the Council of State Governments Justice Center reports that classroom rule breaking decreases when "welcome parties" and other inviting measures are enacted. Increasing punishment fails to change student behaviors.
Use humor. In their investigation of a disciplinary alternative school with students from nondominant racial backgrounds, Debra Pane, Lynne Miller, and Agela Salmon describe how one culinary teacher, "Mr. Jenkins," earned students' consent and trust through humor. "When students from other classrooms walked in without passes to buy food, Mr. Jenkins examined the bootleg pass, humorously sending them back to class -- I'm supposed to do this, ain't I?"
Although it is natural for teachers to want to bolster their authority in classrooms that have a rocky start, focus on building relationships. It can make all the difference.
What positive classroom management techniques work in your classroom?