Professional Learning
Reflecting for Change, From Journaling to Blogging
By journaling about your challenges and triumphs, you grow as a teacher. By blogging about them, you affirm, inspire, and help others grow.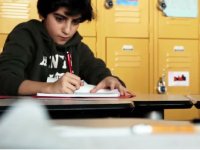 On the day of my college graduation, my math education professor cornered me to hand me a gift that would forever set the tone for my career in education. Dr. Vanessa Huse gave me a journal with a note inside telling me to use it for reflecting daily on three things that I could improve upon, as well as three things that had gone great. That was years ago. At the time, I thought that a journal was such an odd gift. Little did I know that this gift from a professor would be my ticket to becoming not only a reflective blogger, but also a growth-minded educator.
I made a vow early on that if I were to reflect on my classroom, I would do it with both consistency and honesty. This was important because the consistency of journaling helped me to think about what I did daily, and being honest was really the only way to do it. What's the point of journaling if you cannot be truthful with yourself? Looking back, I now understand the purpose in my professor's explicit instructions, because I learned to understand myself better than ever, and I became quite good at patting myself on the back while making much-needed adjustments along the way.
Through journaling, I became an observer of my own learning environment. Perhaps one of the greatest revelations that I learned through journaling was that if I listened to my students and watched their nonverbal reactions, I could tell exactly when I needed to redirect a lesson. This was important as it helped me to truly understand my students and their needs. It was as if I'd unlocked the one super power that would forever change my classroom.
From Journaling to Blogging
As technology changed, so did my journaling. I will admit that the transition from my private reflections in a physical book to blogging on the web was rocky at best. I was afraid to share online in the same way that I shared in private. What would people think? What if my students read my thoughts? How would others perceive my failures? What if my moments of success did not equate to success through the lens of online readers?
For years, I held back my personal reflections, opting to write technology postings, since these were much safer than sharing the nuances of my own thoughts and feelings. I was no longer writing for myself -- instead, I was writing what I believed that others wanted to read. I was sharing the tools of my classroom while leaving out the best tool that my classroom could have had . . . me.
The moment that I flipped the switch on my blog to return to my reflective roots was the moment that I truly came to understand the immense power of sharing my growth with others. I began to connect with other teachers, and through our shared experiences, we became a support system for each other. I had always thought that I lived on an island of one, but I came to learn that teachers from around the globe were not only encouraged by my accounts, but were experiencing many of the same highs and lows.
Writing for Change
In the past, I've credited my becoming a reflective blogger to a conversation with an administrator at ISTE who had asked me what I could teach him and where I was sharing it. Looking back, I realize that I could not have written so openly without a foundation. That conversation about blogging in the newbie lounge at ISTE was not my initial road to change -- it was a critical moment of reigniting a fire that was already burning within me.
My journey as a transformational teacher began on a cold December afternoon, right before marching out with my fellow graduates at Texas A&M University-Commerce. Through that note in a journal instructing me to reflect, my mathematics professor, Dr. Huse, planted the seed that in essence led to years of change. I am a better me, both professionally and personally, because I learned the power of refection before I ever set foot into a classroom. Sharing those reflections out loud through blogging meant that the growth of one could be a catalyst for growth in others. I never spoke to Dr. Huse about the gift that would go on to impact not only my classroom, but also the classrooms of others. Somehow, I know that she is somewhere nodding her head . . . fully aware, as always.
For me, getting started began with a journal that was in essence a book of notes to myself. This was and still is a great start in learning to be more reflective. It's wonderful to share growth online, but more important, any kind of personal change is maximized by being true to oneself. After that point of beginning, and then only when you are ready, sharing with the world is a step worth taking.
Your shared experiences may be the spark needed to promote transformation in others. The journey to change certainly doesn't begin without that spark.
Who or what inspired you to begin reflecting about your practice? How has this reflection changed what you do?