Technology Integration
The Insanity of the New Humanity: Put Away the Phone and Be There
In some countries, people interact as humans instead of vanishing into their phones. Vicki Davis suggests that we not let technology take away our humanity.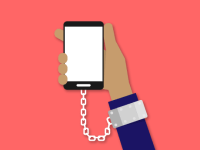 Restaurants and public places in Ireland are loud. They looked so different from the United States -- full of people laughing and talking to one another -- that it took me several days to figure out just what I was seeing. Actually, it was what I wasn't seeing. As we traveled through Ireland, families and friends met each other for dinner or coffee just like we do here in the States, but without one thing. Their cell phones weren't out. No one was texting. No one was taking selfies. They were with each other. . .
. . . except in one place -- the McDonalds.
The moment I stepped into this U.S.-based food franchise, I felt like I was back in the States. That's where I found Irish people who were eager to be like Americans, or perhaps just Americans in Ireland doing what Americans do at home. In McDonalds, it wasn't so loud. A lady ran into me as she texted. Another mom forgot about her restless child on the seat as the kid crawled onto the floor and ate an old fry. All of the people in that McDonalds had their minds somewhere far from the here and now as they texted, took selfies, and shared pics. They were together apart.
But everywhere else in Ireland, I felt like I was back in the 1980s before cell phones and handheld games started creating the personal entertainment bubble. When we got home, we all said that the best part of the trip was that we had committed to keep our phones in airplane mode the whole time. We were together. Really together.
Not Paying Attention
Several years back, I had a car wreck. There was only one person who could give a statement to the police. Do you know why? Everyone else was on a cell phone and said they "weren't paying attention."
The woman who hit me was playing with her dog. Fortunately, my son's life was saved on that rainy day because I was paying attention when that other driver ran the red light.
There are people living without moms and dads and children today because a text message was more important than their very life. Ask each of us, and we'll tell you that our kids or our own lives are more important than that text message. But what we say means nothing. What we do means everything. And what we're doing is foolish.
Let's Be Human Beings
I've seen students come to school exhausted because a friend couldn't sleep and started texting them at 2AM. Technology isn't improving our lives because we're not using it -- it is using us.
We need time to be human beings, not just human doings. And when we do things like spend time with our families or friends, we need to really be there.
I'm not a Luddite, and in fact, I really adore most technologies. But not when it is costing us lives and relationships, and hurting our grades in school. I often wonder if Pavlov's dogs have come in a new form -- a version that walks on two legs and uses its thumbs. We humans seem to salivate at every status update or text message. Are we so eager to feel important that we're forgetting what or who is most important?
As we look at 2015, my biggest hope for all of us is that we can start to see the amazing things and people right in front of us. Let's use all of our wonderful technology to improve our lives. Let's not allow it to keep us from living our lives.
As for my time in Ireland, I think that perhaps the luck of the Irish is to have places where people put away their phones and take the time to look in the eyes of their family and friends. If we do that, we may feel quite lucky, too.