Assessment
Polyphonic Teaching with Digital Learning Tools
I have developed a pedagogical framework (see eDidaktik.dk) that can help teachers assess whether a digital tool is suitable for a monological, dialogical or polyphonic form of teaching.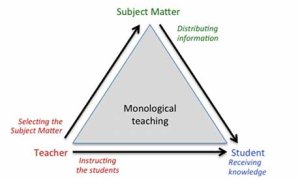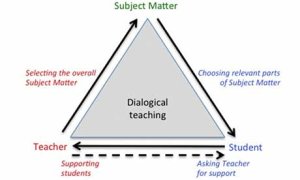 The three categories of teaching are derived from M.M. Bakhtin's novel theory, and are distinguished by their different views on how learning takes place, and by their different perceptions of the relations between subject matter, teacher and student.
Whereas the main objective in the monological form of teaching is for the teacher to transfer her knowledge to students, the dialogical form seeks to organize knowledge in a way that allows the students to choose the relevant parts and create their individual knowledge. In this post, I will be focusing on the ideas of the polyphonic form of teaching, and giving examples of learning activities and digital learning tools that may be suited for this form of teaching. For further descriptions of the monological and the dialogical forms, please see my overview of eDidaktik.dk's Pedagogical Framework.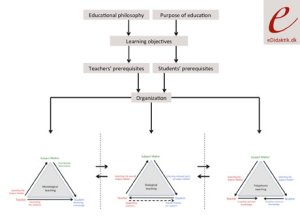 Credit: eDidaktik.dk
(Click to enlarge.)
To understand the framework, it is important to be aware that no form of teaching per se is better than the others. When the teacher plans her teaching, she must choose which of the three forms she wants to practice, based on pedagogical reflections on educational philosophy, the overall purpose of education, the learning objectives and the teacher's and students' prerequisites.
It is also important to note that a course is almost always put together by several activities that can be described as one of the forms -- monological, dialogical or polyphonic -- while usually consisting of more than one overlapping form. The overall teaching form, however, may be described as monological, dialogical or polyphonic.
The Polyphonic Form of Teaching
In the polyphonic form, the objective is for students and teachers to gain mutual understanding and knowledge through dialogue and collaboration where both parties act as co-learners. The polyphonic form is based on the idea that knowledge is created through an exchange of many different individuals' perceptions of the world, and learning is seen as the student's participation in this mutual exchange. Communication within this form of teaching thus becomes polyphonic, and is initiated and controlled by both teacher and students. Whereas the teacher is seen as an expert within the monological and the dialogical forms, she has the role of an equal collaborator in the polyphonic form.
The teacher and students collaboratively select the subject matter that is to be worked with and studied in class. They share equal responsibility for producing new knowledge within the given field.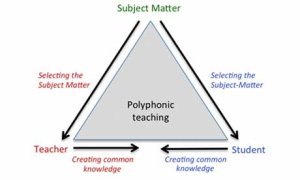 Suggested Tools for a Polyphonic Field Trip
Learning activities that allow students to gather information and create their own knowledge are central to this form of teaching. An example could be the arrangement of a field trip. Instead of the teacher defining what is interesting about the place where the class is going, she could allow students to gather information about the location and choose subjects that match their interests, which could be studied on location. In the process of sharing and developing ideas on relevant subjects, an online collaborative mind-mapping tool like MindMup could be useful. When planning the field trip, MapBox could serve as an online map for plotting the points of interest that students have agreed upon. During the field trip, EverNote could be used for collecting data (text, sound, images and video).
On returning to school, there could be several ways to process the collected data. For instance VideNot.es is a powerful tool for transcribing and analyzing videos. For supporting collaboration, wiki tools like HackPad or Wikispaces are helpful, or perhaps a visual collaboration tool like Mural.ly for producing infographics. These tools would allow students to share their perspectives on the subjects, as well as co-develop critical explanations and generalizations.
In polyphonic teaching, the teacher encourages students' different perspectives on the subjects. Learning outcomes cannot easily be tested or measured within this form of teaching, as it can within the monological form. However, the validity of student inquiry projects produced in the classroom -- which also contribute to the accumulated knowledge within an entire field -- can be tested by others working within that field when teachers share student results with online communities related to the discipline, or when teachers ask experts to comment on student-published wikis or blogs.