Professional Learning
Teacher PD for the Digital Classroom: 6 Bold Ideas to Empower Educators
To better leverage digital professional development, schools must allocate more time, reimagine their ecosystem, update training methods, change their culture, redefine leadership, and encourage mentorship.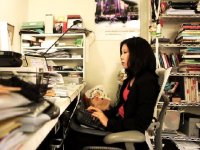 Training and support for teachers on the effective use of educational technology is the key to enhancing learning in the connected classroom.
That was the clear message from a recent one-day working summit in Washington, D.C., where some of the nation's top educators, edtech advocates, and policy makers met to discuss the professional development that teachers need to maximize the potential of emerging digital-learning technologies.
The summit was co-hosted by Common Sense, the LEAD (Leading Education by Advancing Digital) Commission, and the Annenberg Retreat at Sunnylands.
Panelists included U.S. Deputy Secretary of Education Jim Shelton, President of the American Federation of Teachers Randi Weingarten, National Teacher of the Year Sean McComb, Michigan State University Education Professor Punya Mishra, Stanford School of Education Dean Deborah Stipek, Common Sense CEO Jim Steyer, and many more who shared their perspectives on key issues such as:
How schools of education can prepare incoming teachers for a networked learning environment
What administrators need for supporting digital learning
Ways in which industry and NGOs can help.
Here are six of the top takeaways.
1. Allocate More Time for Professional Development
Several panelists pointed out that America's teachers have less time outside the classroom for planning and preparation than their cohorts working in any other industrialized country. AFT president Weingarten posited that there needs to be a fundamental shift in how the school day is structured in order to make time for quality PD, common planning time, and committed time and support for teachers to continually improve their practice.
2. Reimagine the Ecosystem and the Offerings
Deputy Secretary Shelton stated that the professional development ecosystem needs fundamental changes to allow for continuous training, less fragmentation of services, and more accountability for the $2.5 billion that's spent on PD every year. Several panelists argued that PD needs to be ongoing and job-embedded -- not "one and done." Panelists also discussed the importance of more collaborative PD that takes advantage of asynchronous technology, e-mentoring, video coaching, and professional learning communities. They talked about how personalized PD that's flexible is more empowering than what's normally offered, as well as the value of hands-on opportunities to test different techniques.
3. Move from 20th- to 21st-Century Training
Panelists discussed how technology allows teachers to move from implementing district-provided curricula to creating differentiated curricula that meet the various needs of individual students. As such, they called on teacher-training colleges to better prepare teachers as innovators by focusing on tech integration that is deeply embedded in subject matter, as opposed to offering stand-alone lessons on how to use technology. Michigan State's Dr. Mishra pointed out the currently limited incentives or supports for teachers -- or for faculty at teacher-training colleges -- to learn new technologies, especially as they relate to implementing Common Core State Standards.
4. Change the School Culture
Panelists repeatedly stressed that teachers will experiment, take risks, and try new approaches with edtech if they feel trusted and supported in their school community. Panelists agreed that failing is part of progress and must be encouraged by administrators. Sean McComb talked about the importance of administrators trusting their teachers -- not only about the decisions they make in their classrooms but also in selecting their own PD.
5. Redefine Leadership
Educators and other school staff can lead no matter where they are in the hierarchy. "We have student leaders who are influencing teachers and the climate of the classroom," said Mooresville (North Carolina) Graded School District Superintendent Mark Edwards. Montgomery County (Maryland) Public Schools Superintendent Joshua Starr talked about highlighting great work wherever it exists in his school community and sharing it widely via social media.
6. Create Meaningful Mentorship Opportunities
Educators benefit from seeing what their peers are doing well. Pat Wasley, CEO of the Teaching Channel, stressed the benefits of sharing best practices for teachers to try in their own classrooms and seeking constructive feedback from peers. Ruth Okoye, a technology-resource teacher from Portsmouth Public Schools (and a Common Sense Certified instructor) talked about a teacher-coach model of professional development in Virginia that leverages time for teachers to work with coaches who observe and provide support in the classroom.
It was an inspiring day that highlighted some of the support teachers deserve as they enhance and enrich students learning in the digital classroom. Go to the conference webpage to see the full agenda and catch the experts in conversation.
And in the comments section below, we'd love to hear your thoughts on PD for the digital classroom.