Assessment
How to Look at Multiple-Choice Assessments Formatively
Blogger Heather Wolpert-Gawron presents several ways teachers can use multiple-choice tests as formative assessments.
The following is an excerpt from my new book, 'Tween Crayons and Curfews: Tips for Middle School Teachers, I share what I call "lesson trails," step-by-step activities that I routinely use in my classroom following every formal assessment, in order to use that test formatively. In the book, I describe two different kinds of lesson trail packets: one for formatively reflecting on essay writing, and one for formatively reflecting on a multiple-choice assessment for any subject. The excerpt below is an abridged description of the latter.
As a student, I would study for a test (most likely the day before or, I confess, even the period before), take the assessment, and then, much like a person who is done with a document on their desktop, my brain would simply "Empty Trash."
To avoid this same scenario happening to my own students, I use assessments formatively. That is, I have designed a series of activities that routinely follow each test that help guide my students to learn from the results of their formal assessments. Therefore, the information gets routed, not into their brain's trashcan, but into their long-term memory. These activities help my students to look frankly at the results of their tests, analyze and reflect on how they did and why, and set goals to achieve better.
Bottom line: In my classroom, taking a test doesn't end the learning. In fact, it signals the beginning.
The day after I receive the results of their multiple choice tests, whether they are scantron, peer-scored, or teacher scored, the students know that we will begin embarking on a series of what I call "lesson trails" to create a formative packet that becomes both evidence of their learning and a resource for their future test preparation.
"Lesson Trails" lead from one to another, building towards a goal. We step onto one stepping stone, accomplish that task, then jump to the next one, which can only be tackled if the one before it is complete.
A Lesson Trail Following a Multiple-Choice Assessment
Basically, each student gets a Formative Assessments folder. This folder, which can be used for any subject, becomes a yearlong vault of information for each student. Through its development, I guide them to analyze their own growth. During the standardized testing season, the folders are also used as a test prep resource. However it is more than just test prep because it is a dynamic and growing resource that students interact with formatively.
Depending on the assessment being analyzed, the packets therein could look something like this:
1. Their Copy of the Test - Let's say this is the original packet of 50 questions that they used to take the initial test. When taking the test, the students should be encouraged to write in the margins, highlight words in the passages, etc...to show what they were thinking at the time they came up with their answers. They should also circle their answers in the booklet before bubbling the answer onto their answer sheet in order to assess another skill: bubbling prowess.
Frankly, even the best students make bubbling errors. It's a fine-motor skills issue. By getting the additional information that the circled response gives them, the students can decide for themselves whether it was a careless error or a lack of content knowledge.
2. The Original Answer Sheet - This way they can't dispute the accuracy of the actual scantron machine.
3. Reflection Questions - This is a sheet that asks students to quantify some of their mistakes on the assessment as a whole so that they can look at their data in the eye in order to goal-set later. On it, I ask the following:
What Score Did You Get?
How Many Problems Did You Get Right?
How Many Did You Answer Incorrectly?
How Many Bubbling Errors Did You Make?
How Many Errors Did You Make Because You Didn't Understand A Word In The Question?
What words or phrases challenged you on the assessment?
4. Short Answer Packet - This is a different kind of reflection that asks students to zoom in and look at each individual question to analyze why they missed certain questions. Basically, it has four columns. It looks something like this: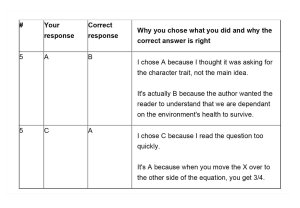 5. Goal-setting Statement - This can be anything from an index card to a more formal writing piece. What are their goals for next time? Are they going to work harder to show understanding of a certain standard or are they setting a percentage goal for themselves in how they will improve from Below to Proficient by moving up 10% in their correct responses?
6. Data Displays - In order to incorporate a non-linguistic element into their Formative Assessment folders, students should create a visual graph of their own progress from test to test in order to analyze their growth or lack thereof. Additionally, you can have the students graph the data that represents their class as a whole group based on the data from 1st to 4th quarter. Cover the classroom in graphs that show both individual and class-wide growth.
By the end of the year, through analyzing their own data, goal setting, and reflecting, more students will improve. I've seen it. Using data formatively is vital for students because it gives them control in their own learning, and in the end, less information will find its way into the cranium's trash.