Technology Integration
Modeling Close Reading for Future Teachers: Professional Resources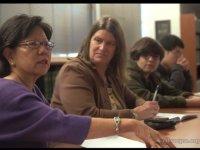 In part one of this series, I shared how I use freely available video in my reading and literacy methods course to help my preservice teachers understand close reading instruction at a level that could not be attained through reading and discussion alone. In part two, I shared my curated collection of videos for general Common Core info, as well as videos to teach the close reading, text complexity and informational texts standards.
Below is my curated collection of videos of exceptional professional websites for reading teachers that feature videos and resources on word generation, explicit instruction, graphic organizers and text difficulty, among other topics.
This site features vocabulary for middle and high school students, but can be used for all grades down to grade four. It also contains an array of lessons, resources, videos, etc. Word Generation employs vocabulary learning principles validated by research and includes weekly topics, each one separated into four strands -- English, social studies, math, and science -- a useful approach for all content areas to connect vocabulary to their disciplines. The topics are controversial to engage students and encourage debate.
In the video clips embedded on this site, Dr. Anita Archer (an educational consultant to school districts on explicit instruction, the design and delivery of instruction, behavior management and literacy instruction) demonstrates explicit instructional lessons in general and special education classes. Viewers are invited to analyze and critique the approaches by using a downloadable guide.
This site includes a series of videos of Utah teachers in grades 1-5 conducting explicit instruction lessons in fluency, vocabulary, story mapping and informational texts. Click "Professional Development" in the left hand column of the home page.
This site includes classroom resources, videos, professional development, parent and afterschool resources, and K-12 lessons. Their free interactive resources are rich and useful. Also, there are many excellent resources for the new Common Core State Standards regarding critical thinking and reasoning.
This site features great resources for K-12 English-language learners, teachers and parents. Included is an excellent list of webcasts for teachers.
Listen to these podcasts or download them to your desktop for later viewing. Bi-weekly programs interview a number of national experts about various topics. You can learn about the research as well as what constitutes good practice.
Aimed at K-8 teachers, this site includes a fabulous array of specific lessons and graphic organizers for reading instruction. Be sure to click the "For Educators" tab.
Freddy Hiebert's website contains an amazing amount of information about the Common Core State Standards, especially related to text difficulty. If you are interested in the very latest research that is not yet in publications, visit this site often. Also, the site is geared toward primary-grade teachers and students who struggle in reading.
This is the premier organization and website for reading professionals including (and most importantly) teachers. It contains lots of information, ideas, lessons, webcasts and podcasts about reading from K-12 levels.
Please share your favorite resources in the comments section below.
This is the third of three parts. To review what I've presented in this series, please return to part one and part two.