English Language Learners
Literacy Through Photography for English Language Learners
Engaging ELLs in creating, identifying, and narrating through photographs can help them develop language skills.
December 1, 2014
Updated August 31, 2015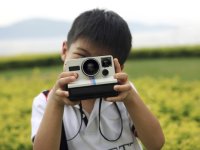 Enter most schools and you will hear about literacy instruction or the "literacy block." However, literacy is not a subject -- it is something much bigger. Paulo Freire encouraged a broader definition of literacy to include the ability to understand both "the word and the world." Literacy includes reading, writing, listening, speaking, and analyzing a wide range of texts that include both print and non-print texts.
Imagery and Language
This post will describe some ways in which teachers can use photography to support literacy standards. Photography supports literacy in several ways:
It is an excellent way to provide differentiation for English-language learners.
It relieves pressure from reluctant students or striving readers and writers by providing the opportunity to read and analyze photographs instead of traditional print texts.
It represents a culturally responsive teaching method as it demonstrates a way to welcome all voices in the classroom to be heard and valued.
This methodology is based on the work of Wendy Ewald, who writes extensively about literacy through photography.
The use of photographs provides a novel way to engage in analyzing text. Students can verbally describe their observations, ideas, and analysis in addition to listening to the ideas of their classmates. The use of photographs allows students to reflect and organize their thoughts in a creative way that cannot be achieved simply through writing. And for many students, this practice provides needed scaffolding for processing and organizing their thoughts in order to be ready to write about them.
5 Photo-Based Strategies
For students with limited English proficiency, this is particularly important because literacy skills can be advanced and improved without relying on prior knowledge of extensive vocabulary. Instead, these practices can capitalize on vocabulary in a child's native language while also building his or her vocabulary in English. The following approaches require students to engage in high-level literacy practices, work collaboratively, and produce high-quality work.
Focus: Try to help children focus their gaze and guide their thinking about the photos, but still leave them lots of room to give their own ideas. Ask students to "read" images by examining the details of a photograph and describing what they see. These discussions tap into children's prior knowledge and may help to inspire their storytelling and writing as well as preparing them for taking their own photos.
Portraits: Have students view a wide variety of portraits. Find portraits of political figures, regular people, celebrities, etc. Put all of the photos down on a table and ask the children to sort them. Some children may sort them by gender, age, or some other variable. It really doesn't matter what they decide. After they sort, ask them to describe why they sorted them the way they did.
You can also ask students to guess who these people are based on the photo. What does the photo tell you? Have students think about the intention of the photographer. Who took this photo? Was he or she an insider or outsider? How do we know? Ask students where the camera is. Where are the subjects looking? As an extension activity, students can frame self-portraits or take portraits of one another or family members.
Building Vocabulary and Using Evidence: Find photos from past eras. You can do a Google search or find a photography book by someone like Helen Levitt or Dorothea Lange, or a site like the Library of Congress' American Memory. Students can also do something as simple as make lists of everything they notice in a photograph. This practice is about both noticing and building vocabulary.
Next, students make inferences about when this picture was taken, and are asked to provide evidence for their guess. Ask students to think about what the photo tells them about the people in it. Look at the expressions on their faces, their poses, the background, etc. How does each detail contribute to how the portrait makes you feel? Support students in understanding that the very same picture could make some people feel happy and others sad (or any other range of emotions).
Perspective Taking: Students choose an object and take a photo of it from six inches away, from six feet away, from below, and from above. All four pictures are displayed, and students discuss how the different perspectives communicate a different feeling, tone, and message. Notice that when the camera is low, it might make the person or object look more powerful, while when the camera is higher, it might do the opposite.
Telling a Story: Students take photos that they feel tell a story. They bring these photos to class and trade with a partner. Each partner examines the photo and decides what story they feel the photo is telling. After a few minutes, partners tell the story they feel their photo conveys. Then they debrief about how their partner's analysis agrees or disagrees with their own intent as the photographer. The next step is for the students to either write a story that goes with their own picture or with a picture by one of their classmates.