Education Trends
Leading and Learning for a Successful Digital Transformation
One transformative school district is fostering adaptive skills among faculty and students while collaborating with like-minded districts to share ideas and further goals.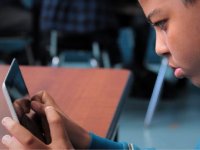 Education, like so many other aspects of our society, has been undergoing a digital transformation. Accepting this reality is inevitable. Embracing it would be wise. But my district has chosen to go a step beyond that as we strive to lead the transformation.
Digital transformation in Vancouver Public Schools (VPS) began with our second-generation strategic planning process, which we call Design II. Launched in January 2007, the process engaged hundreds of staff and community members in shaping the future of our district.
Flexible learning environments for the 21st century emerged as the strategic goal area for Design II, challenging us to think differently about the use of time, space, and technology to maximize learning potential. VPS approached this challenge from a "whole systems" perspective to ensure that our digital transformation would be executed in the right way from the very beginning.
Fostering Adaptive Skills
"Going slow to go fast" is about researching best practices, learning from trailblazing peers, and developing iterative cycles of inquiry and adjustment. Here is what we've learned through our experience:
Digital transformation takes time. VPS is in the sixth year of a long-range plan, and we're in the second year of scaling mobile learning devices to students in our schools.
Starting small is OK. Districts should begin by making strategic investments in infrastructure, well-placed pilots, and capacity-building among staff and teachers.
Focus on high-leverage, high-yield strategies. To prepare students for their future, we must prioritize giving them access to the learning tools and resources that will promote success in school and beyond.
Learning from peers is important, but off-the-shelf solutions don't exist. Ultimately, each district's approach is unique to its vision, culture, and resources. And culture trumps strategy every time.
As we work systemically to provide students with personalized access to devices and digital resources, our participation in the Digital Promise League of Innovative Schools is invaluable. We don't have all the answers, and we can't do this work alone. The League provides a community of practice for diverse educational leaders to advance toward a shared vision of success for every student in America. To realize this vision in our district and across the country, we must develop collective thought leadership around the best practices for improving student achievement.
That's why innovation is not just about the technology. It's about the adaptive skills our graduates need to thrive in a globally connected economy and world. To get this right, educational leaders need to think about digital transformation from a whole-systems perspective and build a culture that encourages ubiquitous leadership and fosters innovation. The goal of creating flexible 21st century learning environments is much more attainable with insight, support, and guidance from peers.
The Fruits of Collaboration
It's also important that what we learn is backed up by what we do. Our collaboration with other League member districts and partners is enhancing our digital transformation, weLearn 1:1. The following are illustrations of how we've leveraged opportunities to learn by networking with colleagues.
Personalized Learning Environments
Our friends in Mooresville (North Carolina) Graded School District helped us design, implement, support, assess, and scale up personalized learning environments that will enable all students to achieve college- and career-ready standards. The district's approach to professional development, instructional technology support, content curation, learning management systems, and resource management have been integrated into our digital transformation. Above all else, Mooresville showed us the magic that can occur in a culture of learning, love, and leadership.
School Launch
York County (Virginia) School Division connected VPS to the Buck Institute for Education. That relationship assisted us in launching Vancouver iTech Preparatory, a grades 6-12, STEM-focused school of choice co-located at Washington State University Vancouver. It also influenced our plans to develop a school for international studies at Fort Vancouver High School in partnership with The Asia Society.
Libraries Reimagined
Our district is fortunate to have innovative leaders among our teacher-librarians, who are an essential component of our professional development ecosystem. That's why we've partnered with Mooresville, Lincoln (Nebraska) Public Schools, and Follett on Project Connect, a national effort to reimagine the role of the teacher-librarian to lead the digital transformation.
Blended Learning
Through the League, we're also participating in research that examines how teachers are using technology in middle school and high school, and we're visiting West Ada (Idaho) Schools to observe blended learning models at the elementary level.
Vancouver Public Schools is committed to ensuring that every graduate in our community and across America is future-ready. That is the shared vision of the League of Innovative Schools.
Is your school or district future-ready? What steps are you taking? Please tell us about it in the comments below.