Administration & Leadership
Becoming a 21st Century School or District: Improve and Innovate (Step 7 of 7)
In some ways we have saved the toughest challenge for last. Don't get me wrong. Transforming professional development, curriculum, instruction and assessment to create 21st century outcomes for your students will all be very challenging. But here's the final challenge in this series:
In Step 7, we challenge you to create an organization that is constantly improving.
The 4Cs as an Organizational Imperative
Working on the 4Cs the last several years has been a wonderful journey. We have enjoyed working with educators to explain the importance of the 4Cs. The graphic below helps demonstrate the full reach of this model: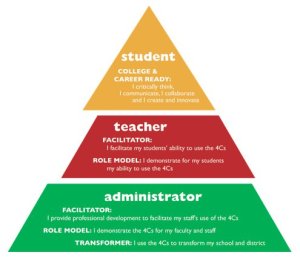 After seeing this graphic, a superintendent walked up to us and said, "I love this model. Our students need the 4Cs as outcomes. Our teachers need the 4Cs to teach. But this also makes clear that our leadership team needs the 4Cs to lead. The entire organization can use the 4Cs as their respective organizing concept." This was music to our ears. And after embracing the 4Cs, the next critical step must be embedding it in every aspect of your organization.
There are four organizational areas where embedding the 4Cs could be considered:
1) Strategic planning
Just this year, I visited my hometown school district. In the front lobby, a question was prominently displayed: "What will our students need to be able to know and do in 2025?" Many schools and districts have been asking similar questions. This has often led to a round of strategic planning around the 4Cs and other 21st century outcomes. Hamilton School District, outside Milwaukee, Wisconsin, had a 15-year track record of strategic planning. In their fourth strategic plan they began to focus on 21st century student outcomes.
2) Accountability and data
No plan -- strategic or otherwise -- is worth anything if there isn't a culture of accountability surrounding it. Simply put, we should hold ourselves accountable to 21st century outcomes that matter to our children's future success. We should collect data on those outcomes, build them into the work of our professional learning communities, and hold educators accountable to them.
In the current climate, Superintendent Jim Merrill of Virginia Beach City Public Schools is only half-joking when he talks about keeping "two sets of books." They keep comprehensive data about traditional metrics. But they have concluded that that data does not go far enough. The "second set of books" is the data around 21st century outcomes, which they use to drive change in the district.
3) Process Improvement
Another great way to drive change is to focus on process improvement. The American Productivity and Quality Center (APQC), which focuses on productivity and quality in the business sector, has created a program called
the North Star Project
. It is designed to bring the principles of process improvement to school districts.
Leaders in the Springfield, Missouri Public Schools have utilized process improvement strategies in their district to improve several aspects of their services, including training, graduation and nutrition. Going forward they have identified five new areas for working on process improvement, including their Learning Model for 21st Century Capabilities.
4) Leadership
It is important to continue emphasizing the vital role of leadership in 21st century education. No school or district has launched a successful 21st century education initiative without strong leaders. Many have started leadership development programs. Others have begun collaborating with leaders in other districts who are committed to 21st century education. Listen to the comments of several EdLeader21 members about their 21st century education journeys in the video below.
video
Reflections
To help you reflect on step 7, we offer the following questions:
Have you adopted a strategic plan in your school or district? Are the 4Cs embedded in it?
Have your students, teachers, administrators and support staff adopted continuous improvement practices?
Conclusion
I hope this "7 Steps" blog series has provided you with helpful ideas and relevant examples. Let us know what you are doing to advance 21st century education so we can tell others about it. Share your stories with me at kkay[at]edleader21[dot]com. See you down the road!
Used with permission by EdLeader21 (c) All rights reserved 2011.