Professional Learning
Lessons in Football, Math and Life: Remembering Charlie Wedemeyer
Last Saturday, a celebration of life was held at the 19,000 seat HP Pavilion in San Jose, California, to honor former high school football coach and math teacher, Charlie Wedemeyer. Another celebration is scheduled this weekend in Honolulu, where Mr. Wedemeyer starred in baseball, basketball, and football at Punahou School and was named Hawaii's Prep Athlete of the decade.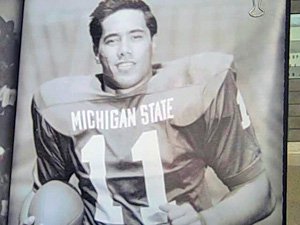 Credit: One More Season
Always the smallest player on the team, he was recruited by coach Duffy Daugherty and played on the Michigan State University national championship team of 1966, and the College All-Star game. He was a superb athlete. And if you look up the word charisma ("a personal magic of leadership arousing special popular loyalty or enthusiasm"), you should see his picture there.
Charlie had a lot of friends, former football players and students, who considered him their hero. I'm one of them.
I met Charlie in 1978, the year he was diagnosed with ALS (Lou Gehrig's disease) and given two years to live by his doctors. I produced a short documentary about him for the San Francisco ABC station and ended up following him around with a camera crew in my spare time for the next seven years. During that time he lost the ability to walk, speak, or breathe without a respirator.
But with his wife Lucy at his side reading his lips, he continued to coach every game and practice. In 1985, his career as a head coach culminated in a thrilling championship game, which became the final chapter of our PBS documentary, One More Season. I learned a lot from Charlie and Lucy about the power of love, faith, and the preciousness of every day. "Remember, tomorrow is promised to no one," Lucy would say.
In addition to his joyful approach to living with a terminal illness, Charlie possessed several characteristics that made him a master teacher and an extraordinary coach. Here are just a few of them:
Tenacity
As the youngest of nine children, he had to be tough. "He was the finest blocker on our team," said Coach Daugherty. "At 5-foot-8 and 175 pounds, he could put 6-foot-5 ends flat on their backs." In August of 1985, Charlie suddenly stopped breathing. He was rushed from the practice field to the ER, where doctors performed a tracheotomy and placed him in the intensive care unit. But Charlie had an All-Star Game to coach later in the week. So, without the consent of his doctors, we helped him rig a phone line to the stadium press box so he could watch the game on TV and call the plays from the ICU, with his wife reading his lips. I wouldn't have believed it if I hadn't been there and recorded it, but it was vintage Coach Wedemeyer.
High Expectations
While he subscribed to the do-your-best-winning-isn't-everything philosophy, he didn't tolerate anything less than maximum effort. Drills were run over and over to perfection. His favorite phrase on the practice field was " ... not bad. One more time." If you used profanity, you ran a mile. Even Lucy said, "He was relentless." His persistence paid off: Inheriting a mediocre program, his record as head coach was 78-18-1.
Sense of Humor
A stern taskmaster on the field, Charlie had a wacky sense of humor that came out almost anywhere. He told bad jokes often and favored the Groucho Marx fake nose and glasses look. For one football banquet, the entire team dressed in grass skirts and performed a unique hula for him. He once managed to convince me that he would kill for a slice of Marie Callender's banana cream pie. I drove around for about an hour and returned to his house with the pie. When I proudly displayed it, Lucy smiled and pointed to the feeding tube that had been recently installed in Charlie's stomach. The two of them laughed for about 15 minutes. It was the best piece of pie I ever ate.
Openness
Although his story has been featured in two documentaries, a made-for-TV movie and a book, Charlie was a private person. When we initially proposed a documentary about his life, he said no several times until he was finally convinced that sharing his story would give encouragement to others facing similar challenges. His pride initially prevented us from recording a scene where Lucy walked him to the bathroom and shaved his face.
Gradually, he allowed us to reveal more of his personal struggle and suffering -- and his triumph. He was always open with his students, players and colleagues. The door to his home was literally always open. He encouraged them to come and lay their problems at his bedside.
Facing death moment-to-moment for 32 years, the Wedemeyers packed every day with a remarkable joie de vivre, and their friends, students, and colleagues were blessed to share in the glow of it. Charlie Wedemeyer's legacy continues through the work of the Charlie Wedemeyer Family Outreach.
--Ken Ellis, Executive Producer, Video, and Co-Producer/Writer, One More Season.