New Teachers
For Kids' Sake, Let's Connect Parents and Schools
Suzie Boss offers some concrete suggetions for bridging the home-to-school gap
At the end of my street sits an aging elementary school. Brick and boxy, it's no architectural marvel. But it's the reason we moved to this neighborhood many years back. And even though my own kids have long since outgrown grade school, I can't help but do a quick scan of the playground whenever I round the corner. I don't recognize many faces anymore, but the scene still brings up a wellspring of fond memories. I can close my eyes and remember my kids' Halloween parades, violin concerts, and an authors tea where a class of second-graders were the featured writers. Attending these events, I always felt like a welcome participant.
Families and schools belong together. Research tells us so and so does common sense. I've visited schools all over the country, from one-room schoolhouses in Montana to urban academies in New York. They're all strengthened when parents come inside, get acquainted with teachers, and get involved in their kids' learning. In the recent noisy debate about the state of public education, nobody argues that it makes sense to strengthen ties between school and home.
Unfortunately, those ties can get stretched to the breaking point. Parents can feel too busy or too stressed to find time to connect with their children's teachers. Messages can get lost on the way home. Some families don't hear any school news unless it's about trouble. Parents who struggled with school themselves may not feel eager to step inside the schoolhouse as adults.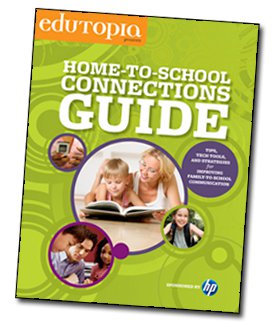 To encourage stronger ties between home and school, Edutopia has just published the Home to-School Connections Guide, a free download. As the subhead promises, it's packed with "tips, tech tools, and strategies for family-and-school communications."
In assembling this latest guide, I drew many suggestions from Edutopia community members who responded to my inquiries with a host of good ideas in blogs, online discussion groups, and on Twitter. Schools are getting more creative about connecting with parents, and we've shared examples of how they're using Facebook and other social media to open conversations with families. Some tips offer new takes on old-fashioned ideas, such as making reading a family affair. And, of course, many ideas come from the reporting that Edutopia has done about what works in education.
More than a decade ago, experts took a look at the reasons why parents become involved -- or not -- in their children's education. Researchers Kathleen Hoover-Dempsey and Howard Sandler narrowed their focus to these three key factors:
How parents view their "job description," including their responsibility to their children's learning.
How confident parents feel about their ability to help their kids.
Whether parents feel invited and welcome at school.
That third factor is the one that educators have the greatest opportunity to influence. How welcoming does your school feel to parents? (Have you ever asked them?) When you communicate with families, do you tend to pass along announcements and due dates, or invite parents to be real partners in their children's education?
Let's continue the conversation about how to connect school and home. And let's keep finding new ways to bring parents inside the school doors.