Social & Emotional Learning (SEL)
Teaching Grit: Social and Emotional Truth
May 20, 2014
Updated April 28, 2014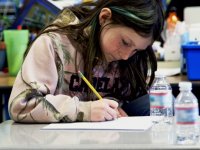 What is grit? According to Angela Duckworth, Associate Professor of Psychology at University of Pennsylvania, "Grit is a disposition to pursue very long-term goals with passion and perseverance." The research on grit is compelling for educators: students with high levels of grit are more successful in both academic and non-academic pursuits. Given these findings, what teacher wouldn't want to hop onto the grit bandwagon?
Closer examination of both the construct and research reveals that teaching grit requires more than we may think. Grit involves the interplay of thoughts and emotions, demanding a wellspring of inner resources to overcome the inevitable obstacles that arise when going full-force after a goal. Thus, teachers who want their students to be more "gritty" need to be aware of those students' inner lives as well as the outer steps being taken to reach their dreams.
Why Grit Might Not be Easy to Teach
Before teaching grit, it's crucial for educators to have a deeper understanding of what grit actually is so that they can not only create the conditions that encourage grit, but also realistically moderate their expectations of students' ability to develop grit.
Duckworth, a leading grit researcher, categorizes that perseverance and passion for long-term goals as a stable personality trait and possibly part of the trait of "conscientiousness." As a stable personality trait, a person's grit should therefore be expected to remain at the same level over time. However, research has shown that while personality traits can change over the course of a lifetime, much is predicated on factors such as environment, the process of identity development, and interactions with other people.
This is critical for teachers to understand when they attempt to teach grit -- and especially for those who are required to grade it -- because being gritty is something that you are rather than something you obtain. This doesn't mean that teachers shouldn't teach grit, but they should make sure that expectations of a child's ability to demonstrate grit are realistic, because personality traits are not always that easy to change.
Let Students Own Their Goals
Another important factor of grit is its emphasis on long-term goals. Many of our students don't come to school with these kinds of goals in place. Alternatively, they may have an idea of what they'd like to accomplish in the future but don't know where to start. Thus, teachers play a crucial role in teaching students how to set and attain goals.
According to research, one of the most important aspects of goal setting is choosing a goal -- and for students, it's particularly important that the goals are their own goals, not anyone else's. When parents or teachers set a goal for a student, the student often has a hard time maintaining interest in the goal. Even worse, her or she will feel enormous pressure to succeed -- which, over time, may harm the student's well-being.
Grit vs. Neuroticism
Finally, and perhaps most importantly, scientists have found that grit correlates negatively with the stable and therefore long-term personality trait of neuroticism, or the tendency to feel higher levels of anxiety, depression, anger or guilt. In other words, students who have higher levels of grit may be less prone to negative emotions and vice versa.
Duckworth states that grit requires self-discipline and self-control, both of which are heavily regulated by emotions. Thus, when the going gets tough -- as expected in any type of goal-pursuit -- negative emotions and the thoughts and beliefs that go along with them might make some students give up more easily. This is something for teachers to be aware of. In fact, research on hopefulness, which is all about goal-setting, has found that students who are hopeful use more positive self-talk, helping them to stave off negative emotions when they hit obstacles to their goals.
Understanding grit at a deeper level will help teachers empathize with those students who are having a hard time reaching their goals. They can then compassionately guide these students to understand why they might be having a hard time, and let them know there are things they can do to move past the obstacles.
Editor's Note: This post is the first of two parts. Be sure to continue reading about grit from the social-emotional perspective with "Teaching Grit: How to Help Students Overcome Inner Obstacles," which includes Edutopia videos and downloadable lesson plans.