Professional Learning
Full-Time Comeback: A Reflection
Returning full-time to the classroom, one teacher reflects on trading his influence within the school community for making a daily difference in his students' lives.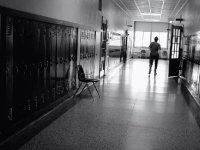 "Are you still teaching?"
Great question, everyone. After everything I've done in the last year since the release of my book This Is Not A Test, people wonder how I maintain such a busy schedule if I'm still teaching. To make matters more complicated, for the first time in four years, I'm back in the classroom with a full-time program after being the math instructional coach and data specialist for my school. I've always had at least one foot in the classroom, at my request, but getting back into the swing of full-time teaching has felt like a bench press after spending years out of the gym.
I should know -- I'm still trying to lose my baby weight.
Less Reflection, More Action
The downside to getting back into the classroom as a full-time teacher is the dependence on prep periods. As anyone in the classroom knows, when you're in front of students, you're on 100 percent. The more time we have in front of students, the less time we have to work on the assignments students are handing in. The less time we have in front of students, the more time we have to create curricula and assessments.
With three classes of eight periods each, plus my other professional responsibilities, I didn't have the same time that I once had for reflecting on the work I do, and for getting feedback from other colleagues. Formally and informally, this also meant less time visiting my colleagues' classrooms, less time to call parents, and less of a feel for the rest of my school. Even though my classroom door is open to all, I also recognize that our jobs at this point inherently isolate us from one another. Time management and prioritizing have meant a lot here, too, as I needed to know how I worked best. How often should I give homework? How many quizzes and tests did I need to give? What time should I come to work?
Plus, when you're not in front of students, you can take a few minutes to compose yourself and perhaps use the restroom in the middle of what you're doing. Bathroom breaks are part of every informal block schedule.
As most people who return to the classroom can tell you, teaching takes stamina, an amped-up energy akin to preparing for a sport. Teachers don't have "days off" because they're lazy or incompetent, but because they need to restore their bodies and minds to get back into the classroom. Opening ourselves up for failure and success for dozens of students at a time is no joke, and doing this for 90 to 150 students a day adds up. When I took up an out-of-classroom position on a part-time basis, this distinction became even more accentuated because of how difficult it was to not just concentrate on the classes that I had to teach. Now, as a full-time classroom teacher, I can see how much more energy it takes. I can't just drop by and inject my energy temporarily as I did when I was a math coach. I have to stay, and the energy of staying put deserves attention.
Stamina and Feedback
Yet the good outweighs the bad in this case, because I eventually built up enough stamina to get my teaching rhythm back. By November of this year, I understood how I had changed in the last four years. I started to get a handle on the relationships with my students, and how much energy I had by the end of the school day. Time management and prioritizing meant a lot here, too, as I needed to know how I worked best. I learned that I needed to get to work at 7:15AM for an 8 o'clock start time just so that I could get my head and heart together before the students came in. I learned that I couldn't give homework every night, but that I could give some form of weekly in-class assessment. I wasn't keen on grading every single assignment that students did, because I could find out just as much about their learning with a lot less paper.
This also helped with my after-school energy. As a parent of a three-year-old, among many other hats that I wear, I need to have enough for him.
Speaking of kids, having a full set of students also meant that I had more students than I was used to having. Even though it meant more paperwork, more assignments to grade, and more phone calls to make, I'm glad to work with so many students. If I can be a good math teacher for as many students as possible, and build those relationships to get them activated, then it makes me feel like I'm doing something awesome. Much of the reason why I got the math coach position to begin with (or so I like to think) was my students' positive feedback about me to everyone else. My daily struggles with some students don't necessarily translate to a troubled relationship with my job. If anything, it's made me work harder.
Back Where I Belong
As the year winds down and the math test has already been administered, I'm doing my best to just enjoy working with students directly. As a math coach, I often saw myself as a liaison between staff and administration, trying to advocate for teachers while supporting them to work with administrative demands. Some of the work satisfied me because I saw myself working with hundreds of students at a time instead of the 90 students as a classroom teacher. Changing teachers' minds would have an almost exponential effect on my school.
But I do love being back in the classroom, if only because now I can actually focus on kids and their concerns. Even if it means that when I gotta pee, it has to be on their schedule instead of mine.