Technology Integration
My Favorite Free and Easy Apps for World Languages
For the world language classroom, consider blending favorite old apps (like the Evernote suite) with Word Reference and apps specifically designed for the language being studied.
As our language-learning classrooms become more infused with technology, it's inevitable that we'll need help deciding what applications to use. You may want to recommend some free apps to your students. Here are some of my favorite free and easy apps for learning a world language.
Edmodo for Classroom Management
There are many classroom management apps, but I'm most familiar with Edmodo. I use Edmodo to connect my students with classes in Haïti, France, and Canada for joint projects. I organize my students into groups, and my co-teachers abroad add their students to the groups. It's powerful to connect students with others around the world!
Almost everything you can do on Edmodo for the web is available in the app version of their platform. Students can access all assignments and documents within the app, whether they are posted in the backpack or in the class stream. Students can take photos, upload videos and documents, and post links to other items.
Dealing With Documents
If you ask students to work with and edit PDF documents, consider using the Evernote apps. Evernote is amazing, and they keep adding new options.
Evernote is great for note taking, writing assignments, recording sound files, and taking photos. Students can share their notes with others via a hyperlink, which they can post on Edmodo. Evernote is also a great app for journal writing -- have students take a picture of their choice, then write about it in response to a prompt for a daily warm-up. They can create a notebook to share -- by posting one link, they can turn in a whole set of journal entries.
Evernote's Skitch app can be used for taking notes on a PDF document. If you're close reading an authentic resource saved as a PDF file, students can annotate the document, highlight words or phrases, and add arrows or questions. In addition, students can turn in their annotated document via a share link.
Evernote's Penultimate app is designed for taking hand-written notes or making drawings. Students can have a lot of fun drawing something that you describe in the target language. They can show their colorful creations to table partners and write descriptions for their drawings, which they can add to a note in Evernote.
Evernote also has a very useful app called Scannable. When I find a great article in one of my French-language magazines, I can use my phone to scan the document with Scannable. It saves the scanned document to Evernote, and I can open the app on my iPad or MacBook to access the document for posting on Edmodo to share it with students. Students can also scan paper-based projects to save in Evernote as a portfolio of their work. I've found this to be very powerful -- students can see how they've grown in fluency from year to year as they look back at previous projects. The power of reflection is worth the effort needed to support students in creating a portfolio of their projects.
Reference Apps
I always recommend a pre-approved set of language reference apps, so my students are less likely to use Google Translate. Although it has great potential, Google Translate does not yet satisfy my inner linguist! Like most language teachers that I know, I don't want students to use Google Translate because it's not always accurate enough for our purposes, and because it doesn't yet offer enough information to make good decisions about which words to use. I much prefer these options:
Word Reference
Word Reference as it not only has language-to-language dictionaries, but it also gives example sentences of how the words are used. I want to engage students' critical thinking at a deeper level than just word-to-word equivalencies. I much prefer that students use WR to see the many ways that words are used, which helps them make better choices. WR also has verb charts for all those pesky verb forms and tenses, and Language Forums where students can discuss with others what they are discovering and wondering as they learn their language of choice.
Reference Apps in French
Additional French Language Resources
Tech for Transformative Purposes Only
There is more to say on this topic. However, we need to remember that we don't integrate technology just for the sake of the technology. Technology should be used if it is transformative to the learning process. Otherwise, it's just one more thing -- and who has time for that? If you want to learn more about the transformative use of technology, look at articles about the SAMR model, such as this one at Technology Is Learning, and these many articles right here on Edutopia.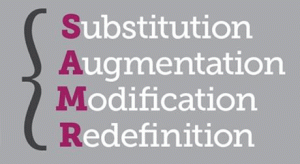 Image credit: Don Doehla
Got Apps?
Let us know how your tech integration for world languages is going. If you have other apps to recommend, please share your discoveries and ideas for using them in the comments below! I look forward to learning with you.