Project-Based Learning (PBL)
Election Night at NPR: Real-World Projects for the Classroom
As you can see from the photo above, I got to politically "geek-out" on Election Night 2012. National Public Radio had put out an all-call for bloggers and other social media gurus to take part in #NPRMeetup. At this meetup, not only were we able to get up-to-the-minute developments on election results, but we were also behind the scenes at NPR Studios. The #NPRMeetup Team was comprised of a variety of individuals and political perspectives, all with their own objectives. My objective was to learn about the process and use these ideas to share with the education community in hopes that teachers might create classroom experiences that connected.
Front Row Seat
The setup of NPR studios was fascinating. I had the privilege of getting a pep talk from Ken Rudin, resident political junkie, about the evening and what to look for on this pivotal Election Night. NPR CEO Gary Knell extended us a welcome and thanked us for our participation, and of course we got to watch all the impressive reporters as they spoke live on radio, and the staff as they directed and crunched numbers. There were so many "cogs in the machine," as you can see from the diagram below. There were so many roles and protocols necessary to make the election reporting work efficiently and accurately. In addition to the physical, on-the-ground work, there was an internal system chat that all team members, from the social media team to the data analysis team, used to communicate in real time to each other. Some information was given to us off the record, and we were allowed to report it only after NPR made the official call. Exit polling was pulled from the Associated Press as well as from NPR exit polling teams.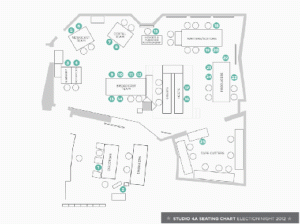 Credit: NPR
Election Night seating chart at NPR
Classroom Ideas
There is so much critical thinking that occurs when analyzing data from an election and then officially making the call. One powerful learning experience could be an Election Night Studio Simulation for the math and social studies classroom that mimics this work. ELA and Media teachers could use the opportunity to teach writing and layout skills. Teachers could provide an ongoing feed, from exit polls to real voting data, and have teams of students work in real-world roles to officially make calls on which candidate won a specific state. Assessments such as journals or Election Night plans (how and when the teams will make calls) could help students learn about data analysis, critical thinking and collaboration.
Another idea that I walked away with was the concept of the Citizen Journalist. To summarize, citizen journalists are public citizens actively participating in the journalism process, although they may not be affiliated with an official news outlet. In the ELA or Journalism classroom, students could become citizen journalists by identifying and reporting on real issues facing their community. They could use social media tools and other new media to make a difference in their community. In addition, they could learn about movements that have capitalized on citizen journalism, such as Occupy Wall Street and the Arab Spring, to analyze the effectiveness of different approaches and plan their campaign.
To see more photos and reports of what happened at NPR on Election Night, you can read this NPR blog. You call also read the Storify archive of our Twitter chat from the Election Night.