Media Literacy
4 Digital Safety Tips for Summer Break
Teach students to embrace summertime digital safety practices with the acronym R.E.S.T: Remain cautious, Express positivity, Stay active, and Tell someone.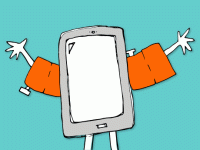 As the school year comes to an end, students and staff are eagerly waiting for their first day of summer break. Thoughts of vacations to the beach or trips to see friends and family members can distract our minds from those last few days in the classroom. Although summer break can offer a time for relaxation and reflection, I believe that it can also be a vulnerable time for students engaged in the digital world. During the school year, students that experience cyberbullying or digital harassment can find support from their teachers, guidance counselors, and school administrators. But as our students embark on their summer vacations, it is important to remind them of a few digital safety tips for summer break. Help them remember by using the acronym R.E.S.T:
Remain cautious.
Express positivity.
Stay active.
Tell someone.
1. Remain Cautious
Summer break can be a very exciting time full of vacations, traveling to new places, and great adventures. During these travels, students could meet new people and connect online using social media. These online connections could open up a new social network of friends for the student to interact with. According to the Pew Internet and American Life Project, 95 percent of teens (ages 12-17) use the internet, and 81 percent of them use social media sites. It is important for students to review their privacy settings on social media sites like Facebook, Twitter, Instagram, SnapChat, Skype, Kik, etc. Students should make sure that their social media profiles and posts don't reveal too much personal information, such as their full name, address, phone number, and location. Encourage students to share responsibly online.
2. Express Positivity
Students may not see each other in person as much over the summer and therefore increase digital communication during this time. As they text, comment, share, and post information, these digital exchanges open students to the threat of cyberbullying and cyberstalking. According to NoBullying.com, the dangers of cyberbullying include:
Impossible to eliminate: difficult to remove cyberbullying once posted
Public ridicule: large audience with rapid exposure
Anonymity: cyberbullies can remain unknown
Omnipresent: nearly impossible to escape cyberbullying in a 24/7 online community.
Students who experience bullying or cyberbullying can exhibit symptoms of depression, anxiety, and loneliness. It is important for students to use social media to build each other up instead of cyberbullying. Sharing a positive comment often leads to others posting positively. Of course, if a student has nothing nice to post, then he or she shouldn't post it at all.
3. Stay Active
Although students may be home for summer break, many parents still work throughout the summer months. This can lead to some middle and high school students spending a significant amount of time left to their own devices. The American Academy of Pediatrics has estimated that today's children are spending at least seven hours a day looking at screens. Too much time in front of screens can lead to damage that includes eyestrain, attention problems, lack of sleep, and obesity. Encourage students to stay active throughout the summer months by joining a community sports team, going to the pool for a swim, or just being outside with friends.
4. Tell Someone
According to DoSomething.org, 90 percent of teens who have witnessed social-media cyberbullying did not say anything to stop it. Summer break can be exciting for some students, but can also be very isolating for others. Students that are off school may lose their only avenue to interact with their friends in person. This isolation can lead to depression when accompanied by cyberbullying. Encourage students to share issues of cyberbullying with their parents, friends, or family members. If you have a student that has experienced cyberbullying throughout the school year, consider offering him or her your work email address in order to have someone to communicate with throughout the summer months. Although school is out, summer break can still be a time when students get support from their local school staff.
Thank you for reading, and please feel free to leave your summer digital safety tips in the comments section below.