Technology Integration
One Day in the Life: An Antidote to Insular Living
Students travel the world through iEARN
I teach high school visual arts on the same island where I was born, a 45-minute ferry ride from the mainland. It's a small community here. The students I work with during the day are the same kids who bag my groceries after school and whose parents I bump into at the post office. Our athletic teams have to leave school well before noon to compete with the neighboring high schools off-island.
Our students are isolated -- many don't leave for months at a time; a few won't leave for years at a stretch. Everybody knows everyone else. Many students have never seen a mountain or stepped foot on a subway. Most have never met a Muslim or a Sikh or an African. They aren't familiar with highways and stoplights.
But oh, do they love Facebook!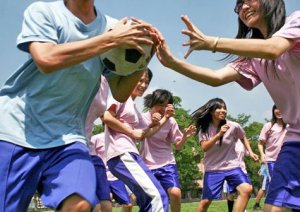 Student: Yue Chao, Teacher: Jocelyn Chang, Country: TaiwanTeacher notes: 'They are crazy!! PE class. Well. It is very dangerous to take picture when the students were playing soccer ~~ very!'
Out of curiosity, I gave our students a survey last year. Virtually all of them use Facebook on a daily basis; most have over four hundred "friends" and many have more than a thousand. Yet when I probed a little deeper with my survey, I discovered that less than ten percent have even a single "friend" outside the Americas, Western Europe or Australia. Almost completely unrepresented were Africa and Asia, for instance, where nearly three-quarters of the world's population resides.
Our students are very well-connected, but it's largely an illusion. They remain firmly and comfortably insulated, surrounded by people just like themselves. And even though they live on an island, I suspect they're a fairly representative sample of US students.
Our own technology even stacks against us in this regard. Until last year, our school district's email system routinely tagged all email from Yemen or Bangladesh as spam and rejected it, regardless of its content or source. If you search for a name in Facebook, their algorithms will direct you to those matches who live geographically close or who's a friend of a friend of a friend. My friend ??? (Cheng) in Kaohsiung, on the other hand, is undoubtedly more than six degrees of separation from my neighbors next door.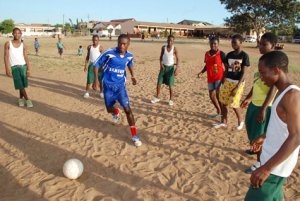 Student: Solace Anyizah, Teacher: Senorfe Fiawoo, Country: GhanaTeacher notes: 'Pupils of Favour Preparatory play football after school.'
A few years ago in my photography class, I was trying to solve the problem of students who were not getting very excited about documentary work. Evidently making photographs of eating breakfast, taking the bus to school or playing sports in the afternoon was just NOT that interesting. Then I had the idea of exchanging work with a classroom overseas. What might seem boring to my students might be of real interest to a student in another part of the planet, and vice versa. I figured by finding an audience that was genuinely interested, maybe my students' work would improve. Plus, maybe they'd learn something about the rest of the world.
Then I discovered iEARN, a non-profit global educational network with branches in 130 countries. It turns out they were already doing this for a good decade before I thought of it. It's called One Day in the Life, and it's one of iEARN's oldest and busiest projects. I've been involved for about seven years now, and it's been hugely successful with my students.
The "One Day in the Life" project is really simple. Students write about and photograph daily life. For example: my student documents getting ready for dinner, a Thai student documents getting ready for dinner, a Moroccan student documents getting ready for dinner, and then they compare notes online. Students document most everything: morning routines, getting to school, after school, celebrations, mealtimes, downtown, markets, neighbors -- all sorts of themes.
Students: Debora Ahiadomey and Solace Anyizah, Teacher: Senorfe Fiawoo, Country: GhanaStudent notes: We make sure we come to school and sweep before before our daily work starts. As the saying goes 'Cleanliness is next to Godliness.' The broom is a standing one made from coconut and palm nut branches.
Today is 11.11.11 -- November 11, 2011. On this numerological quirk of a day, iEARN is teaming up with another nonprofit, One Day on Earth, to simultaneously document life around the world. ODOE will collect the video to make a sequel to its first cinematic project, "10.10.10." On iEARN's password-protected forums, our students will share and comment on other 11.11.11 documents, including still photographs and writing.
What's so special about today, 11.11.11?
In Bangladesh today, Proshanta Mallick's students are home celebrating the end of Eid-Ul-Azha, an important Muslim festival. Today they eat sweetmeats and semai, wear new clothing and head caps, pray Namaz at the mosque with their families, and visit friends and family.
On Facebook chat from Lebanon, teacher Suzan Al Sarrees tells me it is the usual Friday holiday today, but that she is taking her students on a picnic to nearby ruins.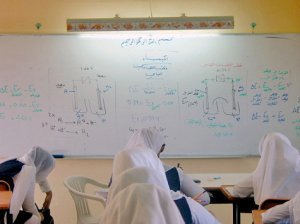 Student: Marwa Tageldin, Teacher: Muna Ali, Country: OmanTeacher notes: 'Girls math, the chemistry lesson'
In Taiwan, Sandy Tsai's students are attending a citizenship training camp at a rural farm. They are running obstacle courses, performing gymnastics, setting up tents and eating traditional Taiwanese barbecue.
In New Delhi, India, Geeta Rajan is preparing her students for tomorrow's Social Science Exhibition. Her students are rehearsing, decorating, and helping teachers set up for tomorrow's big affair.
In Bangkok Thailand, Ladawan Hengwichitkul's school is closed due to the terrible flooding. Her neighborhood is under two meters of water, she tells me this morning via Facebook chat from a safe zone to where she's been evacuated. Her students will write about their day today when they are finally able to return.
In Azerbaijan, Ruhiyye Mahmudova is taking her students today to the capital city, Baku, to attend the 15th anniversary celebration of the Azerbaijan English Teachers' Association.
In Kampala, Uganda, Allen Nansubuga is helping his nephew document the day. Robert, a primary school student, is very excited about the project, his uncle explains.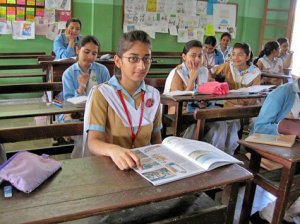 Student: Sameen Rehman, Teacher: GILLIAN DSOUZA, Country: PakistanStudent Notes: 'I am a 13 year old student studying at St. Joseph's Convent School in grade 8. I belong to the city Karachi which is the most industrialized city of Pakistan.'
And in Pakistan, Slovenia, Ukraine, Lithuania, Japan, Belarus, Zambia, Russia, Australia, Argentina, United Arab Emirates, New Zealand, Oman, Yemen, Hong Kong, Bahrain and dozens of other countries, iEARN students today are documenting their meals, their play, their prayers, their classes, their sports, their communities, their chores, their games, their families, their friends, and much, much more, with cell phone video, still cameras, microphones, and pencils.
Today is Veterans' Day in the United States. Public schools are closed in Massachusetts, and my students are scattered across our little island with a motley assortment of cameras looking for aspects of their lives to film and share.
What are you doing today?