Technology Integration
Creating a Custom Reading Experience with Mobile Devices
I'll admit it. At the end of the day, I like to read books -- the paper kind. Twitter alerts and email don't randomly pop up when I read a hardcover book, nor does the lure of checking "one more thing" tempt me from the pages of a paperback. I have a singular focus, unfettered by a device -- or the tools behind it.
And yet, I also value reading onscreen. My digital reading and note-taking began with financial motivation -- the library charged 2¢ per page to print in grad school. Fortunately, my frugality resulted in the discovery of three unintended benefits:
My digital annotations and readings became searchable, even with my rudimentary technique of copy-and-pasting text into Word docs.
Computer-based reading gave me quick access to reference materials. I could instantly gain additional information to support my comprehension.
Readings, notes and annotations could be shared in order to collaborate with colleagues.
With advances in technology, not only is text now searchable, referenceable and sharable, but also accessible and mobile. Given these capabilities, students have the potential to customize their reading experience by addressing three questions.
1. WHY Are Students Reading?
In his Mind/Shift post The Future of Tablets in Education: Potential Vs. Reality of Consuming Media, Justin Reich (@bjfr) writes about the two types of reading that students perform: focused and connected.
"In the focused reading mode, we hope young people will engage deeply with a text," writes Justin. Within this context, students need to be able to immerse themselves in a situation that supports their connection to the content -- whether on paper or onscreen. While this may imply that students should continue to read a book without distraction, what about a child who struggles with decoding? In that case, reading on paper may impede ability to connect with the content. Consider the potential if that student read the same text as an ebook in iBooks, or through Readium in Chrome, incorporating text-to-speech and instant dictionary access. By reading digitally, another barrier to comprehension -- and connection -- is mitigated.
With connected reading, Justin says, "we ask students to treat texts as nodes in a network of information." Individual content becomes part of a broader experience, and students make connections across texts as well as across media. In this case, students often read as a group -- working together to synthesize information from disparate sources. Traditionally, this may occur via literature circles or reading groups, and yet, with a collaborative reading tool like Subtext, connected reading could happen both inside and outside of the classroom. Imagine creating reading groups across classes (or countries) where students share notes, annotations and resources to make sense of the information through collaboration, connecting not only with the content, but also with each other.
2. HOW Are They Reading?
When students read, how are they engaging in the process? Do they highlight and take notes in margins? Do they take advantage of listening to the text or accessing the dictionary? Would they prefer to handwrite or type their notes? Should students be able to access their reading across multiple devices? With the myriad of options available for reading onscreen, these questions help identify the best tools to support the reading process.
When narrowing down options, the first challenge is to understand the capabilities afforded by two key file types: ePub or PDF.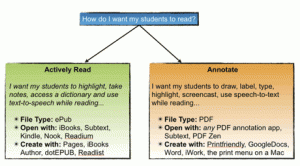 ePub files provide a rich multimedia reading experience. They can contain audio, video and images as well as dynamic text -- meaning that words can be clicked or tapped to activate speech-to-text, annotation features, dictionaries, etc. On the other hand, PDF files provide a "flat" surface on which students can highlight, type, draw or even record audio, depending on the tool that they use to access the file.
Another great benefit to reading onscreen is the instant access to online content. This becomes particularly useful within the connected reading context as students bounce between web sites and media outlets. Some students may choose to employ Diigo in order to utilize the annotation tools and contribute notes to a Group. Others might use Evernote's Clearly or Web Clipper to save annotated web pages into notes and notebooks that can then be shared. With either of these options, annotations and texts can be accessed from anywhere and at any time, creating a truly mobile experience.
video
With mobile devices, students now have the capability to tailor their reading experience to best fit their learning styles -- much like you'd tailor a suit to best fit your person. Once students and teachers know HOW they want to read, then it becomes easier to choose the best tool -- even if it's paper.
3. WHERE Are They Reading?
Where do students choose to read? I vividly remember walking into a silent second grade class one day to see all of the students sprawled on the floor engrossed in their library books. During Silent Sustained Reading (SSR) time, my middle school students could be found sitting in their open lockers or even under desks.
Mobile devices create a reading experience that is confined by neither space nor time. In the past, reading has been a relatively solitary endeavor limited to the available resources, a designated time and a defined space. Students can now read collaboratively or independently. They can leverage the tools and strategies that best fit their learning needs, as well as their reading experience -- focused or connected. Regardless of the device, students can now read in an environment that is searchable, referenceable, shareable, accessible and mobile.