Professional Learning
The Connected Educator: It Begins with Collaboration
Connected educators model collaboration, learning, and growth for their students by embracing those same qualities in their own professional development.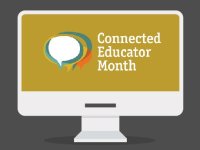 Collaboration has always been a key component of education both from a teaching standpoint and as a learning method. In the past, collaboration was hindered by space and time. In order to collaborate, people needed to be face to face in the same location.
To create those conditions, educators formed groups with common interests. Schools organized their staffs by grade levels or subject areas so that educators could collaborate. Departments within a school collaborated on a regular basis. Many regions had their superintendents and principals create organizations for collaborating. Beyond the individual schools or districts, professional organizations formed. National organizations followed that lead to offer a greater scale.
These organizations held conferences, bringing together educators from various locations. Educators would ideally return to their schools to further collaborate with colleagues in sharing what they'd learned from that collaborative conference.
Collaboration in the past was limited at best, due to the costly restraints of time and space. Districts needed to pay for travel and provide time away from the job, which limited the amount of collaboration possible. This excluded a great number of educators who could not be replaced if absent from the classroom.
Consequently, educators carried on without much regard for collaboration, relying on whatever professional development their districts could afford, and limiting the evolution of methodology and pedagogy. The more affluent districts pursued innovation, while less fortunate districts relied on limited professional development and the consequences of teaching the past methodologies. The model that served us through the 18th, 19th, and 20th centuries is probably -- and unfortunately -- still supported by many districts today.
Understanding and Embracing the Paradigm Shift
Collaboration in the 21st century is no longer limited by those restraints. The change in professional education has been quick, enabled by the many tools that we now use for collaboration. Technology has provided us with the ability to communicate, curate, collaborate, and (most importantly) create with any number of educators, globally, at any time, and at very little cost. One would think educators would be celebrating in the streets at the good fortune of advancing their own learning while helping their profession evolve.
That jubilation does not yet exist in many educators.
My theory is that, because they are a product of the very system that they need to change, they are also victims of its dated mindset: if it was good enough for me, it's good enough for the kids. The idea of collaboration requires a mindset of believing there is room to learn and grow. It is also a belief that we are smarter collectively than individually.
The term connectedness applies to those using technology first to connect with others for collaboration, and then to use that collaboration to direct their own learning. While it's true that we don't know what it is we don't know, if we're ever to discover that unknown, we need to connect with those who do know it. This is the benefit of dealing with many other educators. There is always a more knowledgeable educator who can teach other educators what they need to know.
All of this collaboration has provided a great deal of transparency in education. It has underscored what doesn't work, and has opened many eyes to the greater potential for working more effectively in education as we move forward. It has created a new model for educators in the 21st century. We call them connected educators, although not all or even most have achieved this mindset yet.
The Relevant Educator
How does this all translate to helping students learn? Educators are models of learning for kids. As educators' learning shifts from the "sit and get" model to the collaboration model, that shift hopefully transfers to their teaching as well. If an educator controls his or her learning through self-direction, that learning becomes more meaningful. Authentic self-directed learning becomes self-motivating. That does more than translate to a better-educated educator -- it also creates a teacher advocate for collaborative learning. A teacher who benefits from collaboration tends to appreciate its effect and will use it in his or her own methodology. If we are to better educate our kids, first we need to better educate their educators.
In The Relevant Educator: How Connectedness Empowers Learning, Steven Anderson and I offer this description of what a connected educator looks like:
Believes in sharing and collaboration
Uses technology and its connection to other educators to learn and teach
Practices and models lifelong learning, which is often a concept professed to students as a goal of education
Uses the tools of technology to personalize his or her professional development
Is a relevant educator, willing to explore, question, elaborate, and advance ideas through connections with other educators
If not comfortable with new technology, still shows a willingness to explore its use
Views failure as part of the process of learning
May put creation over content, and relevance over doctrine.
Riding the Wave
The real commonality of connected educators is their use of technology to collaborate in the pursuit of lifelong learning. These educators actively participate on Twitter, write regularly in their blogs, take part in webinars to expand their knowledge, and contribute to online communities to help others grow. They realize that learning can and does happen anywhere, and they want to be a part of it wherever it occurs.
In a society where digital has replaced analog and the country's infrastructure is being retooled to accommodate information technology, we are preparing citizens for a world of continuous technological evolution. We, as educators, need to understand that dynamic and evolve at a pace that keeps us from falling behind. The tools of communication, collaboration, and creation have radically changed and will continue to transform.
The connected educator is a model for all educators as we move forward. A connected educator is as much a learner as a teacher. A connected educator is digitally literate, adapting as needed to inevitable changes. A connected educator is relevant in a world where rapid change is already a constant for our students.