Professional Learning
Earn $ for Classroom Materials: Teachers Pay Teachers and the DIY Economy
As a teacher, you probably create resources for students all the time. Perhaps you need a differentiated activity, an interactive game or CCSS-aligned lesson that isn't available commercially. Most likely, your stunning creations are only used in your classroom and shared with a few teammates.
What if teachers around the world could benefit from them, too? And how amazing would it be to get paid beyond your regular salary for what you create? This is the idea behind Teachers pay Teachers (TpT), an open marketplace for teacher resources.
Teachers pay Teachers was created by New York public school teacher Paul Edelman in 2006. Today over 2.5 million teachers visit the site, with thousands maintaining TpT stores. I was lucky enough to discover TpT soon after its creation and was one of the first sellers to post a product. Over the past seven years, TpT has evolved into a dynamic community of buyers and sellers.
How Much Money Can You Make?
People often wonder if you can make substantial money on TpT. I currently make much more selling teaching resources than I would have if I'd continued teaching. According to TpT, the top seller has made over $2 million, 164 teachers have earned over $50,000, and thousands more bring in a few hundred dollars a month, which can make a big difference when you're living on a teacher's salary.
Tips to Get You Started
If you dream of sharing your creations beyond your classroom walls (and making extra money in the process) the following ideas will help:
Find Your Niche
As a teacher, I worked mostly with gifted and talented populations, where I constantly created differentiated materials. Quality critical thinking exercises were not always available, so I created curriculum to fill that niche. My first product, a set of open-ended literature printables that can be used with any book, still sells well today. These days, I create task cards and incorporate higher-level thinking whenever I can. I enjoy the challenge of creating cards that are both fun for students and effective for teachers. The takeaway? Create what you are passionate about.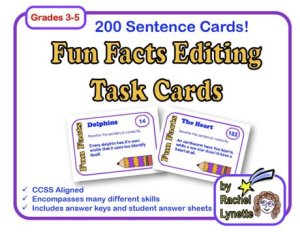 Credit: Rachel Lynette
Ad from Teachers pay Teachers
Set the Bar High
As you are probably aware, there are tons of free teaching resources on the Internet. Anyone can save a worksheet as a PDF and upload it to a sharing site, and many educators do. There is only one reason that teachers shell out their hard-earned money to buy curriculum materials: quality. So be forewarned. Creating a top-notch resource -- one that is on par with or better than those created by educational publishers -- takes a great deal of time and energy. You may also need to purchase clip art and fonts to make your materials stack up to those produced by the companies. Robust, creative, practical and well-designed teaching resources are not easy to find for free on the Internet.
When I began creating task cards, there were plenty of free ones available. I set mine apart by designing them to be visually appealing, rigorous and often aligned to the CCSS. I also included teacher instructions, answer keys, student answer sheets, and challenge cards -- basically, the complete package. Most teachers want the best resources for their students. Take the advice often given to learners: do your very best work.
Price Appropriately
Pricing your products can be one of the most challenging parts of selling on TpT. Underpricing may seem like a good idea to attract a customer base, but people often equate low prices with poor quality, and underpricing is not good for the overall TpT community. You deserve to be compensated for a quality product. When making price decisions, consider factors such as the product size, usefulness, and the amount of time saved by the buyer.
Network, Network, Network
Believe it or not, other creators on TpT (the ones who are technically your competition) can be amazing allies! Over the years, TpT has developed a wonderfully supportive community that you can access on the seller forum, as soon as you create a seller account. The forum provides information about how to be successful on TpT. And if you have a question, the answer is just a post away. Many sellers work together, proofing each other's products and collaborating on Pinterest boards, blogs and more to promote products. I have benefitted a great deal from the connections I've made, and I try to pay it forward.
Don't Compare Yourself to Other Sellers
Currently, I am a top seller on TpT, but this was not always the case. For a few years, TpT was dominated by sellers targeting their resources at primary grade teachers. Those of us who created products for older grades watched as they outsold us month after month. As a competitive person, I worked to keep jealousy at bay. Two quotes helped:
"A rising tide lifts all boats." - John F. Kennedy
"Comparison is the thief of joy." - Theodore Roosevelt
Remember that every product you sell earns money you didn't have before, and more importantly, every product you sell saves fellow teachers' time and benefits children in ways that you cannot begin to imagine. We are making a difference in education. Come join us and describe your experiences on Teachers pay Teachers.