Technology Integration
Chrome Smashing: Creating the Inconceivable
May 20, 2014
Updated April 23, 2014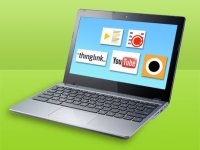 Despite what Apple and Microsoft would like for us to believe, there isn't always "an app for that." Sometimes, it takes multiple tools to complete a process, and this idea becomes abundantly clear when working with mobile devices. As Greg Kulowiec says in his blog:
Smashing Defined
Creating with mobile devices can be a lot like baking. Though cookies, cakes and pies all begin with flour and eggs, the final products vary wildly. Similarly, smashing multiple apps can lead to extraordinary learning artifacts, so why not apply it to Chromebooks? In four steps, we have the potential to create and share something entirely new.

As teachers, we should look to incorporate smashes because we want our students to demonstrate their understanding, to reflect on a process and to envision creating a learning artifact that was previously inconceivable. We want students to take ownership of their learning process, develop technology fluency, and identify the best possible means to "show what they know." When there are no limitations to what can be created with the available tools, then there are no limitations to how students can demonstrate their growth as learners.
Video Reflection Chrome Smash
With that in mind, I first started to experiment with this concept of Chrome smashing while preparing for a Chromebook workshop. Too often, when we think about student creation with these devices, we focus on Google Docs, Sheets and Slides. With this group, I had already explored the many facets of Google Drive as well as a range of ways to consume course content, but I wanted to see how we could unleash student creativity and incorporate more opportunities for reflection. I wanted to see what could happen when we apply the concept of smashing to Chromebooks.
My first thought was to teach the concept of embedded video reflections. This particular school placed a heavy emphasis on writing, so I decided to see how we could leverage the collaborative features of Google Docs with video and screencasting. To do this, I fused the power of revision history in Google Docs with Screencastify (a screencasting app for Chrome) and then published the process to YouTube.
video
As a teacher, imagine the potential for students to reflect on their own writing while watching it played back through the revision history. Consider the insights that you may gain as a student articulates the rationale behind his or her writing. Though this first Chrome smash may have only combined a Google Doc with a screencast, it certainly opened up a new way to think about creating with these devices.
The Remixed Smash
After completing the video reflection smash, more complex applications started taking form, especially as I reflected on The Power of Remix, Mashup, and Re-Contextualization in the Classroom, a presentation by Amy Burvall (@amyburvall). She explained that creativity is inherently linked to derivative works. In other words, when students not only smash together their own products, but also smash other students' learning artifacts into new creations, a layer of metacognition is added to the process.
With that idea in mind, I fixated on objects that could be uploaded to Google Drive, shared and then smashed. First, I curated images and video that were created by a number of people on Chromebooks, iPads and smartphones into a Google Drive folder. Then, I smashed them together using Pixorial (a Chrome app similar to iMovie) and uploaded the video to YouTube. Finally, I imported the video into VideoNot.es (a note taking tool for videos) for reflection and feedback.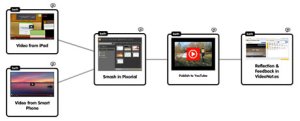 Credit: Beth Holland
(Click to enlarge.)
Suddenly, I was able to envision how students could create, collaborate, reflect and review in totally new ways. Imagine creating a visual virtual tour of Ancient Rome, an interactive diagram of a cell, or a geometry project complete with text, images, video, and even a Google Form Quiz like in this
ThingLink
.
Breaking New Ground
Whether your students have iPads or Chromebooks or laptops, when you remove the technical limitations to your thinking about projects and curriculum, a new world opens up for student creation. In Five Minds for the Future, Howard Gardner writes:
Essentially, our goal as educators is to help our students develop into creators and innovators. When we know that smashing is a possibility and introduce this potential to our students, we not only empower them to take ownership of their learning process, but also teach them to go beyond the initial obstacles in order to problem solve for better learning and expression.