Teacher Wellness
Catopia: Refurbishing the Vision
Citizenship for cats means that we need a drastic rethinking of our "pet"-agogy — starting right naow.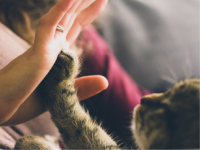 Now that cats have won the right to vote, we as a society must move quickly to ensure that both species -- human and feline -- find common ground on what citizenship really means. This goes well beyond validating a sense of entitlement and establishing clear definitions of personal space (for humans, obviously) -- it's about the future.
Who will make cute videos of whom?!?
Based on U.S. Census Bureau projections, experts predict that when today's kittens reach voting age in 2-3 years, we're likely to see an unprecedented shift in national priorities. What that shift may look like will surely depend on the educational priorities we set today.
It is for this reason that we have decided to change our focus. Effective today, we are now called "Catopia."
We're launching this new online resource in the spirit of interspecies communication and co-evolution. In a changing society, we believe there's room for perspectives of all stripes, so to speak. Just look at today's posts, and you'll see what we mean:
"Training Kittens to Land on Their Feet" -- Dexter Diehard
"The Good Cat/Bad Cat Dichotomy" -- Zippy
"Designing a 'Cat-Friendly' Cat Door" -- Tigger
"Transforming Pedagogy to Petagogy" -- Missy La-La
"Flipping Your Litter Box" -- Muffin
"GBL: The Inherent Futility of the Empty Sleeve Game" -- Claude-Paul Sartre
"Feeding Time: A Daily Learning Experience" -- Cupcake
"Don't Fear the Cat Carrier" -- Index the Burgermeister
"D'oh! You're Going Viral in a Humiliating Video!" -- Eve O'Destruction
"Memo to Bullies: Go Away, You Annoy Me" -- Zeus
From where we sit, the human-cat educational partnership promises a future that's both stimulating and cozy (depending on who's awake and who's asleep). What do you think, hmmmmmm? Please share your ideas in the comments section below.