Professional Learning
Building Community at Edutopia: Organizing and Aggregating
Earlier, I talked about the history of community building at Edutopia and the rationale for improvements coming to the site. Today's post is the first of two that will delve more deeply into some of the specific changes.
But first a caveat: this is still very much a work in progress. Much of what I'll describe is still being developed and tweaked based on technical hurdles and feedback from the community. Some things may get added, others deleted. The aim here to show the direction we're going, even though the exact destination may vary some.
That said, let's talk about Topic Pages.
Topic Pages are a way for us to aggregate in one place all the amazing content on Edutopia around a specific strategy, area of focus, pedagogical approach, etc.
The way it works is that everything on the site will be tagged with one or multiple keywords. The Topic Pages then pull in all the content tagged with their particular keyword. For example, anything tagged with the Special Education keyword will show up on the Special Education Topic Page.
The end result should be an improvement in your ability to connect to specific resources and with others who share your interests.
Let's preview what this might look like in practice. Below are a series of images that, when stitched together, will form a sample Topic Page.
Credit: Edutopia
The Topic Page opens with an option for our Editors to spotlight important or timely material. Also please note the plethora of social buttons for sharing these resources with your networks.
Credit: Edutopia
(Click to enlarge.)
One important function of the new Topic Pages is that they highlight your incredible contributions via discussions on the site. This is done by prominently featuring discussions tagged with the relevant keyword.

Credit: Edutopia
(Click to enlarge.)
As with discussions, we also break down the barrier separating our videos from the rest of the site. You can find an article on Project-Based Learning (PBL) and a video showing examples of PBL implementation, all on the same page.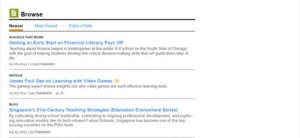 Credit: Edutopia
(Click to enlarge.)
Whether it's a blog post, guide, article or feature from Schools That Work, everything tagged with the relevant keyword will display to this section of the Topic Page. There'll be no more need to hunt across the site for information about your topic of interest.
So that's a Topic Page in a nutshell. Not everything described will make it into this first pass of changes, but features will be added as we continue to iterate.
What do you think? Are we on the right track? Let us know in the comments below. And if you'd like to get more involved and help us beta test the new designs, let us know that, too. We hope to have the beta soon with a soft launch of the new tools later this year.
Thanks for your kind attention and for being a part of the Edutopia community. We hope you're as excited about these changes as we are.