Blended Learning
Blended Learning in the Mix: The Proactive Teacher
Teachers in blended learning programs should take the opportunity to learn and lead — your ideas and observations are worth hearing and acting upon.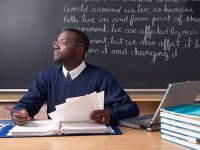 Editor's Note: Megan Kinsey, Principal of Ridge Middle School in Mentor, Ohio, is the co-author of this post.
It's early spring, and you're just leaving the faculty meeting where you've learned that next year your classes will fall under the umbrella of blended learning, and each of your students will have an iPad as a take-home device. Awesome, right?
With the rapid national push toward moving classrooms and learning experiences to a blended approach, many educators are playing catch-up to learn the best ways of implementing these tools in their classrooms. It's important to keep in mind that feeling overwhelmed by this concept is normal and OK. After all, some schools and districts are just now getting their hands on technology that was developed more than five years ago.
Teachers can be highly successful in a blended environment when they make time for thinking ahead and planning how their classroom will look, feel, and sound in a technology-rich environment.
Find Your Philosophy and Live It
Remember putting your portfolio together at the end of your undergraduate experience? The first article you were instructed to share was probably your philosophy of education. Although you may have felt this was a waste of time, really understanding who you are as an educator -- and understanding your purpose -- can be extremely powerful.
1. Define Blended Learning in Your Classroom
The term "blended learning" is extremely broad by definition and leads some to believe that it hasn't dramatically changed previous definitions of teaching and learning. Refine that definition by asking yourself:
What will the infusion of technology look like in my classroom on a daily, weekly, and monthly basis?
Will student opportunities for collaboration increase or decrease due to the amount of time that devices are used?
Based on the technology tool that I have, what is its optimal use?
What does assessment look like?
How do I know if students are learning?
Answer these questions and establish your definition of blended learning.
2. We Are All Learners
Somewhere in the course of our educational system's development, teachers were the sole keepers of information which could only be accessed in a classroom. Talk about pressure! Thank goodness times have changed and learning alongside your students is now an admirable quality and what sets some of the best educators apart from the rest. It's now acceptable and even encouraged to ask students for help importing an image into Google Docs, adding music to a presentation, and even allowing time to explore apps that you didn't know existed.
3. It's Not Failing, It's Learning
It's honorable that teachers want to have every detail in order and a plan in place for absolute success. However, it should always be understood in a blended environment that some things may not connect as intended and, most importantly, that your students may not be the digital natives that you once thought. Things will go south from time to time. When that happens, your role isn't lamenting how or why it happened. Instead, you should be focusing on what can be learned and what your next iteration will look like. Accept failure, embrace it, and make it a teachable moment. Ken Robinson said it best: "If you're not prepared to be wrong, you'll never come up with anything original."
Don't Wait Around for PD - Find It
School districts tend to provide teachers with a scripted professional development program, typically driven by federal and state mandates. Although the district has a responsibility to support its teachers, it will likely not provide you with a personalized learning experience. If you don't already have a defined personalized learning network (PLN), get started with one now:
1. Get a Handle
Joining Twitter and following educators and education organizations is an ideal starting point. Twitter is full of great articles from ASCD, Solution Tree, and your grade-level professional organization or association. Try a hashtag search for #BlendedLearning. Learn about growth concepts like SAMR from its creator, Ruben Puentedura. You will see great examples of work from teachers across the country, collaborating and sharing every day.
2. Start Talking
Professional learning communities (PLCs) have a longstanding reputation for improving student learning through data, collaborative planning, and differentiation. Do you know what your content partner is doing in his or her classroom? Do you have any idea what the other teachers at your grade level are planning? Find time to share knowledge and insight with your colleagues on a regular basis. Consider creating a set agenda for each meeting, including celebration, tips and tricks, and collective inquiry.
Design and Implement
In a blended learning environment, the need to plan and develop thoughtful units of instruction has emerged as one of the most critical factors in creating a successful instructional program.
When creating units of instruction, focus on larger themes and big-picture concepts. Too much emphasis on small skills and minutiae will have you feeling like you are drowning in apps, digital content, and 25 individual student learning paths and lesson plans. Reflect on your blended learning philosophy and evaluate its presence in your unit design. If you find you're not using the tool in the manner that you initially intended, make adjustments.
Is there a 1:1 or blended learning program at your school? How do the teachers plan and deliver units of instruction? Please share your experiences in the comments.