Blended Learning
Blended Learning in the Mix: The Informed Parent
Parents of students in blended learning programs should understand the changing roles of technology and teachers, and make an effort to stay informed about edtech.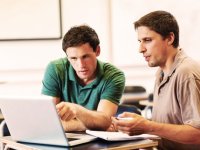 Editor's Note: Megan Kinsey, Principal of Ridge Middle School in Mentor, Ohio, is the co-author of this post.
If you know anyone in the education field, you may have heard lamentations about the cyclical nature with which the instructional strategies and programs from 20 years ago resurface under a new name. Although we are the first to admit that this is often the case, there are some core components of our educational system that have stood the test of time.
Parents play an important role in their child's education. Literacy-rich environments, when children are in the earliest stages of their development, lead to greater understanding of the English language and eventually reading comprehension. In a digitally-immersed school environment, many parents, with or without a technology background, are often confused and unsure of how to support their child at home. After all, almost everyone has experienced school for a period of time, and this certainly doesn't look like your own experience in elementary, middle, or high school.
Devices are Learning Tools
Here's a critical piece that parents need to understand -- although the tool has shifted from a textbook to a device or online program, the fundamental role of the technology is to enhance learning. Yes, many devices have embedded entertainment capabilities, but the role of this technology in school is allowing students to engage in an individualized program and create content of their own. Reinforce the use of the device for learning at home. Explore current topics of study together, and have your child teach you about an app or program that he or she uses on a regular basis.
Understand the Teacher's Role
Blended learning has shifted the role of the teacher. Now more than ever, teachers are focused on having students develop and enhance skills in the areas of verbal and written communication, collaboration, and problem solving. Teachers are not only helping to provide insight and information, but are also creating scenarios and situations where an answer may not exist, and prompting students to seek answers independently or in a small group. Do not assume that, because a teacher directs students to seek answers to their own questions, doesn't assign nightly homework, and isn't using a lot of multiple-choice assessments, he or she is not teaching. The work that teachers are doing within the blended learning classroom is highly targeted, discreet, and data-driven. If you are unclear or have questions about your child's progress, ask. Teachers appreciate the opportunity to explain what they're doing.
Be an Advocate
Moving to a blended learning environment often challenges the way that students are accustomed to operating in the classroom. If your child is used to sitting in an assigned seat, getting information, and then restating these ideas on tests, a blended classroom with self-paced, individualized instruction may present a new type of learning curve for him or her. As your child adapts to this different method of teaching and learning, it may be advantageous to talk with the teachers about areas of strength and where support is needed.
Although the structure and model may change and look different, the end goal has always been the same -- student learning. What parents need to keep in mind is that education is education, and their role remains constant regardless of the format.
You Can Learn, Too
The rapid rate of technological development is often hard to keep up with, especially if these tools are not part of your daily life. Students of this generation are sometimes referred to as "digital natives," and many if not most of our students can't imagine a world without internet, tablets, laptops, and social media. Take advantage of the wide range of resources available online that can teach you the ins and outs of devices, predominant programs used at the school, and any other topics related to blended learning and the incorporation of technology in the classroom.
Follow Your Child's School
Now more than ever, schools are creating their positive digital footprint through social media such as Twitter. By "tweeting" about the work students are engaging with and about upcoming events, schools are better able to communicate with parents and community in real time or something close to it. Set up a Twitter account and find the handle of your child's school (like @MentorSchools) to get up-to-the minute pictures and messages about the day's events. There are also helpful parent resources through Edutopia and Common Sense Media.
If you're a parent, how do you stay connected with new programs like blended learning at your child's school? If you're an educator, how do you keep parents in the loop about your edtech initiatives? Please tell us about it in the comments.