Technology Integration
Are We Getting Smarter about Ed Tech?
How can we think smarter about educational technology in the classroom? Check out these suggestions and resources to find out how.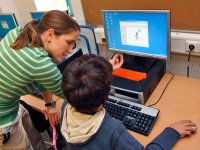 "Will teachers be replaced by robots?" That was the provocative question asked by Scott McLeod (@mcleod), a leading voice in educational technology, at an international conference earlier this year.
I remember the growing discomfort among participants at my table as he shared example after example of what machines are smart enough to do already. Most of us agreed that computers have the edge when it comes to processing tasks and work that can be automated. But how about computers that can produce original artwork? Check. Write coherent essays? Check. Forge emotional connections with humans? Check.
What's Not Working
Meanwhile, our existing educational technology has failed to produce desired learning outcomes, according to a recent international report from the Organization of Economic Cooperation and Development.
Students, Computers, and Learning Making the Connection concludes that investments in classroom technology are yielding "no appreciable improvements in student achievement in reading, mathematics, or science." What's more, the study found technology to be of little help in "bridging the skills divide between advantaged and disadvantaged students." And then there was this headline-grabber: "Students who use computers very frequently at school do worse than their peers."
If machines are smarter than ever, why can't we seem to leverage them for better learning outcomes?
Author and global education expert Yong Zhao offers some insights in a new book, Never Send a Human to do a Machine's Job: Correcting the Top 5 Edtech Mistakes. He suggests that we suffer from "cyclic amnesia," forgetting to learn from previous efforts to integrate technology for learning. The tools keep changing -- from filmstrips to cable television to web tools -- but the results remain flat, at best, if we only substitute new tools for old tasks.
One problem, Zhao argues, is that we haven't thought hard enough about redefining the relationship between teacher and tools. In a recent Washington Post blog post, Five Big Mistakes in Education Technology and How to Fix Them, Zhao explains why it's a mistake to think of technology as a teacher substitute:
What might this look like?
Smarter Tech Moves
The OECD report offers this suggestion: "If we want students to become smarter than a smartphone, we need to think harder about the pedagogies we are using to teach them."
Experiential learning, project-based learning, and other inquiry approaches are among the strategies that put learners in the role of active participants, according to OECD. Similarly, Zhao suggests students use technology as "a tool for creating and making authentic products," rather than merely consuming information or performing rote tasks.
Tech tools to support these instructional strategies can range from simulations to social media to serious games. Both teaching and learning are enhanced by tools that deliver real-time formative assessment, foster collaboration and digital citizenship, personalize learning, and enable student creativity.
So, how can you think smarter about educational technology in your classroom? Here are a couple resources to help:
Consider SAMR: Dr. Rueben Puentedura developed the SAMR model to help teachers evaluate whether they are using technology to Substitute, Augment, Modify, or Redefine learning experiences. Learn more about SAMR in this video from Common Sense Media.
Tools for PBL: In project-based learning, you might leverage a number of tech tools at different times during a project, and for different purposes. This crowdsourced document captures suggestions from an ISTE workshop earlier this year. Participants suggested a wide range of tools to deepen learning across the arc of the PBL experience, from launch event to final reflection. Gather some new ideas or add your own suggestions for tools that help you teach smarter.