Technology Integration
5 App and Mobile Use Guides for Parents
Matt Davis has curated a list of resources for parents for using mobile devices and apps with children, tweens, and teens.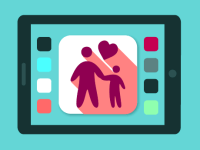 Apps and mobile devices can be great tools for helping families play, learn, and connect together; though, as a parent, it can be a challenge to know where to start. You likely have questions and concerns about how your children are using these devices. How much screen time is too much? At what age should we introduce mobile devices to our children? How do we set guidelines? What apps should they be using? And how do we ensure safety online?
If you're looking for information, these five guides and resources are wonderful sources. They cover a range of subjects related to mobile devices and apps -- from using apps during family time to protecting teens' privacy online -- and they contain helpful suggestions for using mobile devices with children, tweens, and teens.
Useful Articles for Learning More
Those five guides are a great jumping off point for all topics related to mobile devices and their uses during family time. But it's a complex subject, and as technology changes, so do the questions. Here are some more useful articles from various sources that are chock-full of insightful information.
We'd love to hear from parents. How are you using apps and mobile devices during family time? Are there any sources of information that we missed?