Technology Integration
5-Minute Film Festival: Video Boot Camp
Have you thought about using video in your teaching, but don't know where to start? Video enthusiast Bill Selak has some tips and tricks for creating new videos and curating existing ones for the classroom.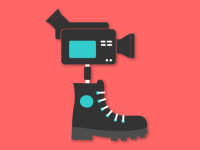 The rapid adoption of devices in the classroom has fundamentally changed the way we can create video. Every part of the creation process -- writing, recording, editing, and distributing -- is possible on the devices that can fit in our pocket. Vision is the most dominant of the five senses. Research shows that concepts are better remembered if they are taught visually. This is called the pictorial superiority effect, and it's why video is such a powerful learning tool.
A video is created three times: when you write it, when you shoot it, and when you edit it. There are several formats that can be used to write a script for the classroom: a Google Doc, a dedicated app (ex: Storyboards), a Google Form, or a production organization document. Whichever format is used, emphasis should be placed on how it will be used in the classroom, and what the goal of the video is. When recording, it is important to incorporate basic rules of composition, such as the rule of thirds, into your video. Being aware of the environment (basic concepts like lighting and room tone) makes it easier to edit.
Curating content is another significant way to incorporate video into your classroom. If you don't have the time or software to make a fancy video, odds are someone has already made it and shared it on YouTube. This Film Festival is equal parts curation and creation.
Video Playlist: Video Bootcamp for Teachers
Watch the first video below, or watch the whole playlist on YouTube.
video
More Resources for Using Video in the Classroom
Ready to dive in and begin curating and creating videos for your classroom? Here are some resources to dive deeper into the world of video in the classroom.