Education Trends
The 4 Components of a DIY Professional-Development Toolkit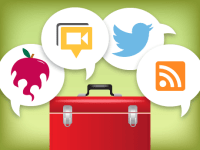 Education has always been a reflection of broader cultural values. As such, the roles of teachers and students have evolved as our models of education have moved from one iteration to another. Teachers who once traveled to town to instruct a heterogeneous room full of passive learners on matters of rote memorization have come to adopt new roles and philosophies toward learning. As these new models have emerged, educators have been required to hone their skills and adapt to ever changing sets of priorities, needs and expectations.
Where such trainings were once the sole responsibility of state and district organizations, many teachers are now seeing the value of venturing out to amalgamate their own professional learning experiences. While no two paths are the same, there are four components of effective do-it-yourself (DIY) professional development that all educational professionals should consider.
Twitter
Twitter is a microblogging platform that allows users to publish posts of 140 characters or less in length. Educators the world over have adopted this social network as an always-open staff lounge where ideas, best practices and resources are shared with one another in the context of a professional learning network. In Why Teachers Should Try Twitter, William Ferriter shares his reason for taking his professional development to the network:
Though these may be Ferriter's own words, the attitude expressed in them about leveraging Twitter for differentiated professional development is shared by many who have Tweeted and been Tweeted back at.
Blogs
In addition to Twitter, educators are making blogs an integral part of their DIY professional development. While many enjoy reading what others have written, writing your own reflective blog posts is a highly effective technique to improving your instructional practices. In their Teacher Evaluation Model, the Marzano Research Institute identifies reflecting on teaching as "a vital meta-cognitive step in teacher development." What you post at first doesn't really matter. The practice of consciously reflecting on your classroom practices and documenting what you are learning does matter. There are a number of platforms that teachers are choosing to host their professional blogs, Edublogs, Weebly, Blogger and Wordpress being the most popular among them.
Edcamps
Edcamps are cropping up across the country. Depending on where you live, you might have already attended one yourself. If not, it is quite likely that you have at least heard about the edcamp movement. Edcamps are a type of teacher-organized unconference that allows educators to get together, often for only a day, to engage in discussion-based professional learning. What makes edcamps really unique is that there are no planned sessions at the beginning of the event. Attendees gather in the morning to suggest topics and offer to facilitate sessions, which are then displayed on a large schedule board for others to view and attend. Tom Whitby writes in What Makes Edcamp Popular with Teachers that "Edcamp's success is based on trust and respect, as well as a personal drive for professional development." While these often take place on a Saturday, those who attend are there not because they need professional development credits, but because they want to learn.
Hangouts
Google+ is quickly finding itself the host of burgeoning community of educators as well. As on Twitter, users are sharing content and ideas with one another in a professional learning network. Additionally, they are utilizing Google's social networking platform to Hangout. A Google Hangout is a video conference with the potential to broadcast up to ten people at a time. For innovative educators, this technology has opened up a number of opportunities to connect and grow together. Whether participating in a distance-based book study, hosting a weekly educational podcast, or simply logging on to talk informally with a few friends about what's going on in your classrooms and schools, Google Hangouts is providing teachers with a way to connect instantly with other do-it-yourselfers. This past January, Google Hangouts even served as the platform for the first entirely online Edcamp, Edcamp Home, which allowed ambitious educators from all around the world to experience the unconference from the comfort of their couches.
At the heart of any approach to professional development is an attitude about how, when and where we learn best. In today's educational ecosystem, the answers to these questions can largely be found online. While Twitter, blogs, edcamps and Hangouts aren't all that should be included in a comprehensive professional development plan, the learning experiences and opportunities enabled by utilizing them far outweigh the takeaways from a district in-service training. This might be due to the nature of the teacher-generated interactions, the opportunity for knowledge construction, or even the access to educational experts and thought leaders. Regardless, the emergence of DIY professional development isn't a fad or a passing trend. It's a reflection of our culture, one that will see more innovation in education during the next ten years than it has seen in the past hundred.