Administration & Leadership
Becoming a 21st Century School or District: Align Your System to the 4C's (Step 3 of 7)
Ken Kay shares a great resource for assessing your system to determine alignment with the 4C's.
Let's say that your school or district's new vision is for each and every student to possess the 4C's:
Critical thinking
Communication
Collaboration
Creativity
You have a 21st century education vision but what if your professional development is still in stand-and-deliver formats and your assessment systems are comprised of low-level bubble sheets? Your system would be out of alignment.
The goal is to create a system that looks something like this:
The district has a clearly defined set of student outcomes that includes the 4C's.
The 4C's are integrated throughout curricula.
Assessments measure student performance across the 4C's.
Teachers have the support they need to teach and assess the 4C's.
Education leaders are sharing their 4C's-related work through regular communications and collaboration opportunities with parents, community members and other stakeholders.
Education leaders are monitoring and improving 4C's implementation over time.
The MILE Guide
One way you can determine whether your school or district is aligned to the new vision is through the MILE Guide, a self-assessment tool developed by the Partnership for 21st Century. The MILE Guide Self-Assessment Survey is a shortened version of the tool with a set of 14 questions that you can quickly answer. Your homework assignment for this week is to go online and take the MILE Guide Self-Assessment Survey. Answer the questions and print out the summary. The results page looks like this. (Please click the graphic to enlarge.)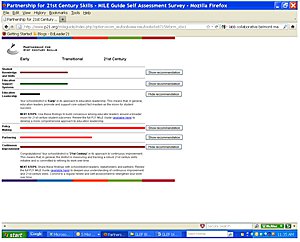 Click to Enlarge
What does your summary tell you about how aligned your school or district is to your 21st century vision? Use the MILE Guide to have an alignment conversation in your school or district. Ask your leadership team to take the online version a day or two before your next meeting. Have them bring the summary to the meeting prepared to discuss their answers. Facilitate a discussion around where your school or district is today with respect to alignment.
Virginia Beach City Public Schools is one district that has spent a lot of time reflecting on how their current education strategies are aligned to their vision. They adopted the following vision: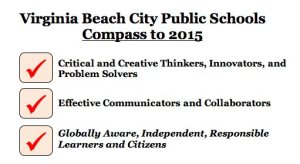 Their work focuses deeply on strategic plan alignment. Their strategic plan alignment involve five strategic objectives:
Engaging every student
Balanced assessments
Improved achievement
Creating opportunities
Capacity-building
For example, the capacity-building involves developing essential leader, teacher and staff competencies. The development of professional learning communities (PLCs) was chosen as the key activity to support capacity-building. Each teacher receives Richard and Rebecca Dufour's book Learning by Doing, which establishes a shared definition for PLCs. District leaders also host a principals' collaborative meeting every month to keep everyone's work on "Compass 2015" connected. The collaborative now operates as a true PLC, and issues of alignment are kept "front and center" in everyone's work. This gives you a flavor of how hard Virginia Beach City Public Schools work to create alignment with their vision. It is not quick or easy, but it is essential if your vision is going to impact the students and classrooms of your school or district.
Conclusion
I hope in this Step 3 blog we have given you a good sense of alignment and we also hope you will find the MILE Guide a useful tool. Come back next week and we'll focus on how to use the 4C's to align professional development with your vision. See you then!