Administration & Leadership
Becoming a 21st Century School or District, Step 1: Adopt Your Vision
Defining the needs of 21st century citizens and skill requirements will help guide your vision.
Step One: Adopt Your Vision: Use the 4C's and More
What is 21st century education?
What are the seven steps for becoming a 21st century school or district?
Why is leadership so important?
This week we ask you to launch your 21st century journey. To put it simply: It begins with you, your personal vision. You need to be grounded in why you think we need a new model of education and what you think the essential student outcomes need to be in the 21st century.
In order to help you with this part of your journey, we have divided this step into three parts:
What are the biggest changes in society in the last 25 years?
What are the capabilities your students need to cope with this change?
How do you come to closure on your model?
The Biggest Changes in Society
Consider these big changes in society over the last 25-30 years and how they impact the students of today.
Changes in the workforce Are you preparing your students for a life in which they will have more than ten jobs before they reach age 42? Are you preparing your students for a workforce in which 80 percent of employers say that if students have mastered core subjects and critical thinking, communication, collaboration and creativity skills, they will be ready for the challenges of the 21st century economy?
Growth in the service economy Today, 80 percent of the country's jobs are in the service economy and that number is headed to 85 percent. Are you preparing your young people for a world in which most jobs require listening skills, empathy skills, problem solving skills, communication skills, collaboration skills, and the ability to customize solutions?
Change in citizenship Has your school or district considered how the requirements for being an effective citizen have changed in the last 50 years? Are your students ready for a more complex, more online and more global concept of citizenship?
Change in the nature of information Are your students being prepared for a world in which by the year 2020 the amount of technical information in the world will double every 18 months? Are your students learning how to discern, aggregate, and synthesize information in addition to "knowing" it?
What other changes would you add to this list?
21st Century Student Capabilities
As you consider these societal changes, think about what skills your students will need to negotiate all of this change.
Critical thinking
Communication
Collaboration
Creativity
(With respect to creativity, think about the importance of creativity and innovation skills. Check out the work of Sir Ken Robinson. Another interview with Sir Ken Robinson)
I would also suggest that self-direction is a very important and unappreciated skill in the 21st century. An Apple executive told me, "If someone at Apple needs to be managed, they are no longer employable!" Are you preparing your students to be self-directed and self-managed? If you are looking for more information on self-direction, check out Daniel Pink's book, Drive.
Another very important skill in the new economy is global competence. More and more work is being done by diverse groups of individuals from around the globe. If you are looking for more information on global competence, check out the Asia Society's new book called Going Global
Consider these six skills. Would you delete any? Which ones would you add? Now you have your own list of 21st century student outcomes.
So that you can see how education leaders have used these lists, I'm including a model of a 21st century framework. Below is the model from Catalina Foothills School District outside of Tucson, Arizona, where they asked their students to design the graphic.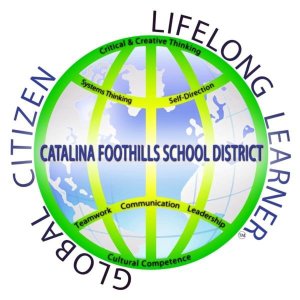 Click to Enlarge
Conclusion
By reflecting on the changes in society and developing your own list of student outcomes required in the 21st century, you are now prepared to begin the conversation with your community. In Step Two, we will offer guidance for working with your community to develop a vision for 21st century education in your school or district. See you then!