Administration & Leadership
Becoming a 21st Century School or District: Embed the 4Cs in Curriculum and Assessment (Step 5 of 7)
Ken Kay shares a framework for embedding the 4Cs using Understanding by Design
Welcome back to our series on becoming a 21st century school or district. For the earlier installments of this series, please scroll to the bottom of this page.
We often get asked to show folks what 21st century skills can look like in the classroom. Here is a video from the Pearson Foundation focused on High Tech High in San Diego.
Before the 4Cs can be embedded in the classroom, they need to be incorporated into curriculum and assessment. That is the goal of step 5.
Embed the 4Cs into Curricula and PD using Understanding by Design (UbD)
A methodology we recommend for embedding the 4Cs into curricula is Wiggins and McTighe's Understanding by Design (UbD). UbD is well-suited to 4Cs curricula design for two primary reasons:
1. UbD is not agnostic about the goal of teaching and learning -- it focuses exclusively on student understanding.
2. UbD requires a backwards design methodology.
When it is done well, the process of backwards-designing 4Cs curriculum becomes the primary platform for professional learning throughout the district.
In Catalina Foothills School District in Arizona, over 200 teachers participate every summer in improving inquiry-based learning units in subjects such as middle school science. They use assessment data to figure out what's working and what's not to make their curricula and assessment systems more effective.
In their first year in North Salem Central School District, New York, Superintendent Kenneth Freeston and his deputy superintendent, Mike Hibbard, asked educators to work together in writing the curriculum, which focused on critical thinking and creativity. In the second year they looked back at the curriculum to determine what improvements were needed.
As Hibbard described it, "We wanted to look at the good, the bad and the ugly." The collaborative sessions among teachers occur during the school year, using release time and scheduled PD days. Educators found the sessions worthwhile because it was relevant and timely in helping them refine their own practices.
The 4Cs and Assessment
It is impossible to develop a coherent approach to curricula without diving deeply into assessment.
We know some days it doesn't feel like the rest of education is headed in the direction of 21st century education. But if one looks at recent developments in the Common Core standards, the AP exam and the PISA exams, it is clear that the assessment world is slowly but surely beginning to emphasize assessment of critical thinking and problem solving skills.
Some assessment strategies you can focus on in the near term include:
Rubrics
Many districts are working with us in EdLeader21 to develop a "master set" of rubrics for the 4Cs. That work should be available in the summer of 2012.
Portfolio Assessments
These are incredibly helpful for educators interested in measuring the 4C's. The Envision Schools in Northern California have made major progress developing a system for portfolio assessment for the 4Cs.
Assessment for Project-Based Learning
The New Tech schools have developed tools for assessing 21st century outcomes in the context of project-based learning. See the snapshot below for an example.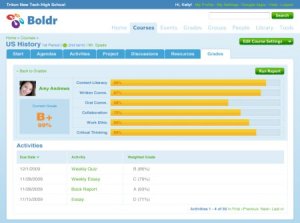 Click to enlarge
Capstone projects
In most cases, capstone projects tend to take the form of culminating projects at the end of middle school and/or high school. Upper Arlington City Schools (OH) have implemented a senior capstone approach that integrates the 4Cs into its assessment.
Reflection
For each of the student outcomes that you selected in step one as part of your 21st century vision answer the following questions:
Does your school or district have a widely adopted definition of this outcome?
Is the curricula designed to produce this outcome?
Do students and parents get feedback on how students are performing against this outcome?
Do teachers get feedback on how they are teaching this outcome?
Do you and your board get feedback on the degree to which the system is producing this outcome?
Conclusion
Now that you've read step 5, you can see how critical alignment is in the areas of curriculum and assessment. Next we will focus on a key ally in this process, your teachers. You can't get where you want to go without them, so adequately supporting them is essential. We'll work on that challenge next week.
See you then!
Used with permission by EdLeader21 (C) All rights reserved 2011.