Project-Based Learning (PBL)
10 Ready-to-Borrow Project Ideas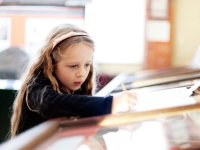 If you're planning to give project-based learning a try during the coming school year, you may hope a spark of inspiration will strike during the summer months that will lead to a memorable PBL experience. And maybe that's just the excuse that hard-working teachers need to take a hike or daydream by a pool.
But here's another surefire strategy for PBL planning: borrow project ideas from your colleagues and adapt or remix to fit your context.
Here are ten project ideas that I've gathered from a busy season of summer conferences and professional development events (including ISTE 2015 and PBL World, an annual event hosted by the Buck Institute for Education).
By sharing their thinking at this early draft stage, teachers invite feedback from peers. That's another strategy for effective project planning. (Most project ideas were shared anonymously and some are mashups of similar suggestions. Thanks to the creative teachers behind these PBL plans.)
Let's Dig In!
Which of these driving questions might frame a meaningful inquiry experience for your students?
What's your story?
Project #1: In this language arts project for the early elementary grades, students compose photographs that tell compelling stories about their community. To get ready for this challenge, they interview professional photographers for advice about composition. Then they identify locations that they think make their community special. They also write informational text to accompany their photos. To make their work public, students might produce a StoryMap to publish online or a kid-friendly travel brochure for their community visitors' center.
How can we, as ecologists, solve the wild horse problem?
Project #2: This is a high school science project with a strong local focus. The teacher behind the idea is from Nevada, where the wild horse population poses a threat to the fragile desert ecosystem. Students will research the issue and propose solutions to an expert panel. They will be expected to defend their solutions based on facts, data, and ethical decision-making, and appeal to stakeholders on all sides of this contentious issue. Note: Although this project idea is tied to a specific location, other teachers could adapt it by considering the ecological issues facing their communities.
How can we redesign a space that makes us think our school is cool?
Project #3: Here's an idea suitable for any school that is overdue for a makeover. The teacher behind this idea has built in constraints to force creativity: proposals must make the building more efficient and student-friendly. Students will apply their understanding of math and art to generate scale drawings, which they'll pitch to school administrators (along with proposed budgets and rationale or justification for the change). I can also imagine students making prototypes in a makerspace or using an online tool like SketchUp to generate plans.
What can we do to help kids get outside more?
Project #4: This project challenges "big kids" (grades 5-6) to enhance the health of preschool kids by proposing creative ways to encourage more outdoor play. I can imagine how a strategy like design thinking would be useful for helping students understand the perspective of their intended audience (in this case, preschoolers and their teachers or daycare providers). For final products, students might produce an online guide to local parks, or lead play days in which they would demonstrate games or activities to get little guys and their caretakers outdoors.
How would you incorporate working gears into the design for a hamster-driven vehicle?
Project #5: Here's a project for upper elementary or middle school grades that's big on the fun factor while addressing specific science and engineering content. Design constraints set expectations that the vehicle will be safe for the hamster and durable enough for multiple trials. Students (and hamsters) will test their final products in lunch-hour races and other public demonstrations. Videos of these events will be shared online to reach a wider audience.
How can we learn to love reading (or love reading even more) and share this love with others?
Project #6: Intended to engage seventh-grade students in English language arts, this project puts a premium on student voice and choice. Students will be asked to discover what makes reading "work" for them, and then share their strategy with peers. The results might be read-alouds, library events, student-led research, community action, or whatever students propose. There are good opportunities for differentiation in this project.
How can we, as future city planners, reimagine empty lots as places of importance in our community?
Project #7: This project invites students to be innovators. Where do they see opportunities for local improvements? How can they use engineering principles to design and model improved purposes for empty lots or blighted spaces? Student investigations are likely to include surveys, interviews, prototyping, collaboration, and more as they take on this real-world challenge and share their results with local decision makers. The same project could incorporate social studies or economics by having students consider the stories behind specific places. What used to occupy now-vacant spaces? What changed? What was lost?
How can we help first responders help hypothermia victims?
Project #8: Intended for middle school science students, this project focuses on an authentic need in mountainous regions. Students will apply their understanding of science and engineering to design a device that emergency responders can use to warm hypothermia victims. Products will need to be portable and suitable for covering large portions of a victim's body. Potential benefits could go well beyond academic understanding; these products could be lifesaving.
How can we apply our understanding of slope to build stairs for a community member who needs them?
Project #9: For math teachers wondering if PBL can work in their content area, here's a project to consider. Understanding of algebra is literally bolted into this project. By adding the service component (i.e., building the stairs), students will be able to see how math is used outside the classroom. As a modification, students could also design ramps for wheelchair access. This project invites collaboration with community nonprofits that focus on housing and accessibility issues.
How can we make our school more energy efficient?
Project #10: Here's an idea that could generate measurable savings for local schools, while giving students the opportunity to apply their understanding of energy. Depending on content focus and grade level, students could investigate everything from energy audits to alternative energy sources and behavior change. As an extension, students might contribute their results to the Cool School Challenge.
Even More Ideas
Looking for even more ideas to borrow? Here's a post from last year's PBL World with more driving questions to consider.
If you have a rough-draft project idea that you're contemplating for the coming school year, please share it in the comments section below and invite the Edutopia community to offer some friendly critique.