Social & Emotional Learning (SEL)
Black/White/Other: Helping Multiracial Kids Find Their Way
For the growing population of multiracial kids, attitudes and diversity programs haven't kept up with reality.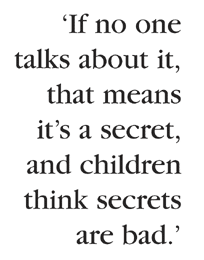 Marissa Yanez, now twenty-six and a bioengineering Ph.D. candidate at the University of Washington, grew up in Los Altos Hills, an affluent, mostly white suburb of San Francisco. It was a pretty place in a nice area. In high school, she was smart, talented, and "a huge mess." The reason? She has a Chinese mother and a Peruvian father.
"I had no idea who I was," she remembers. "I had tons of identity issues. My parents were clueless -- we never discussed race at home -- and teachers never asked."
For many multiracial young people, particularly those who came of age before the rise to prominence of such mixed-race celebrity role models as Tiger Woods, Halle Berry, and Christina Aguilera, finding their way has been a struggle.
Multiracial children are a fast-growing segment of U.S. schoolchildren. Nearly 7 million Americans identified themselves as "one or more races" on the U.S. census in 2000, the first year that option was offered. And more than 40 percent of multiracial respondents were under eighteen (in contrast to only 25 percent of the "one race" population).
Teachers say that helping multiracial students feel at home in the classroom is not as simple as just continuing to teach traditional diversity programs, which celebrate different cultures and ethnicities. (These same programs often unwittingly reinforce fixed notions of just five ethnic groups: black, white, Asian, Latino, and Native American.) It means recognizing how strange the question "What are you?" can make a child feel as it subtly attempts to assign an ethnic stereotype.
"Multiracial kids are caught between not existing at all -- with outdated forms that require them to check only one box for their identity -- and existing so far outside the perceived norm that people can't pass them by without commenting on their appearance," explains Donna Jackson Nakazawa, author of Does Anybody Else Look Like Me? A Parent's Guide to Raising Multiracial Children (De Capo Press,2004). "When educators understand the dichotomy these children face," she says, "they understand how important it is to intervene in situations where kids are hyper-exposed" -- such as peer teasing -- and to include in their curricula images and ideas that help those kids feel normal.
One starting point for broadening everyone's sense of what is normal is to begin complying with the latest federal guidelines for data collection, which allow students to mark one or more of five race boxes. These new forms replace the old "choose one" directive that tended to make children feel they were rejecting one parent's race; many people find them preferable to the options "Other" or "Multiracial."
"We're trying to get away from classifying people based on race, so the solution is not to create another group," says psychotherapist Nancy Brown, president of the Association for MultiEthnic Americans (AMEA), which spearheaded the census form's change. "As great as a 'Multiracial' box may sound, "Brown says," it decreases accuracy, sometimes dangerously. Different mixes are distinct in experience and in more serious ways, such as health concerns."
Frank discussions about race are critical. "If no one talks about it," explains Nakazawa," that means it's a secret, and children think secrets are bad. They feel something is wrong with them." For example, instead of shushing the first grader who says, "Hey, you must be adopted!" to a dark-skinned child with a white parent, a teacher might say, "It sounds like you think moms and dads have to match. But you don't have to look alike to be a family."
Drawing family trees with parents' help, or indicating on a map of the world where their relatives came from, can be a good way of making kids feel proud of their full heritage, Nakazawa adds.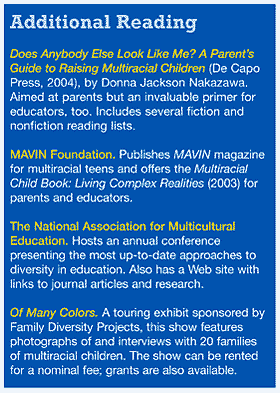 For teachers of teenagers, there's a growing list of memoirs and fiction by and about multiracial people. Dennis Guikema, a longtime English teacher in Oakland, California, sparks class discussions among high school students by assigning The Color of Water: A Black Man's Tribute to His White Mother (Riverhead Books, 1997), by James McBride, as well as other works about mixed-race issues. Now the director of a new public charter school called Oasis High School, Guikema credits a spirited, proudly multiracial pupil he encountered eleven years ago in his first year of teaching with making him aware of the importance of positive images of multiethnic people in his classes. "We need to create an environment that both honors all students' identities, "he says," and exposes students to the experience of others."
That sort of environment is the goal of Heritage Week at Wakefield High School, in Arlington, Virginia, a large public school. The student population is so diverse, says Lisa Labella, a history teacher there, that students resent it when clubs or programs target just one race or ethnic group. During Heritage Week, students bring ethnic foods to school and wear traditional clothes; the period culminates with a wildly popular variety show ranging from Indian dances to Arabic poetry.
Most important, according to Labella, Heritage Week and Wakefield's many other diversity programs foster a culture of "openness and celebration" that helps kids from all backgrounds see themselves as individuals with gifts and opportunities. "You can't just pay lip service to that," she adds, "with a few events during Black History Month."
Bonnie Powell is a freelance writer in San Francisco. Write to bonnie@bonniepowell.com.
Additional Reading
www.mixedfolks.com Includes hundreds of prominent multiracial people, as well as photos and brief bios submitted by kids and adults.
www.racialicious.com/ Monitors and analyzes media treatment of multiracial individuals.