Social & Emotional Learning (SEL)
Helping Children Together: When Private and Public Schools Meet Halfway
Autistic students in the Stepping Stone preschool program get the best of both worlds.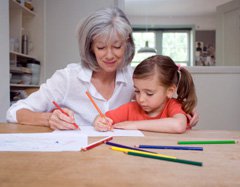 The room looks like a corporate suite in miniature: There are five tidy cubicles, each with a child-size table and chair and gray, fabric-covered partitions. Tacked up on the walls, alongside a small picture of Spider-Man or the Teletubbies, are typed schedules, task lists, and score sheets.
On a warm October morning, a five-year-old named Jerry will do coloring, cut shapes, and write. He'll practice counting, patterns, phonemes, buttoning, and taking turns. His behavior will be monitored for "noncompliance," "environmental destruction," and "aggression," and if he has an outburst, the "antecedents" and "consequences" will be recorded. His four classmates in the Stepping Stone program at Meetinghouse School have their own lengthy to-do lists.
Stepping Stone is an intensive applied behavior analysis (ABA) preschool for autistic children ages 3-7 in the Ashburnham-Westminster Regional School District, in north-central Massachusetts. The program opened in 1998, a novel collaboration between a school district that had four young children with autism and nowhere local to treat them and the New England Center for Children, a private autism-education powerhouse in Southborough, outside Boston.
The district supplies space, materials, tutors, and inclusion opportunities for the children; it pays for consultants in physical, speech, and occupational therapy; and it contracts with the center to provide curriculum, a supervising behavior analyst, a lead teacher, and training for the tutors who work one-on-one with the kids.
Alan Chates, director of special education and pupil services of the 2,700-student district, inherited Stepping Stone from his predecessor. "It's one of the most incredible experiences I've ever been exposed to in my long career," he says. "It's a service the district does not have the capacity to provide on its own."
Stepping Stone runs much like the early-childhood classrooms at the New England Center, where annual tuition is $82,000 (plus $20,000-$30,000 for transportation). Both operate year-round, with individualized instruction and strong parental involvement. Classrooms are as quiet and spare as an insurance office, scrupulously designed for minimal distraction; that's why the kids work in cubicles.
Guided by the center, Stepping Stone has a stability often lacking in public school autism programs, which may disintegrate when a stellar teacher leaves. "This is a very powerful model for consistent, high-quality services," notes L. Vincent Strully, the New England Center's founder and executive director. The cornerstone of the program isn't a single teacher; it's the curriculum and expertise developed over thirty years at the center, a residential and day school for 200 students. (Recently, it received a $100 million contract to open a satellite school in Abu Dhabi.) If a Stepping Stone senior teacher leaves, the New England Center has a pipeline of replacements because it runs two master's degree programs in special education, with immersion in autism and ABA.
Stepping Stone differs from the New England Center in one all-important aspect: It's a community-based public program. The children don't have to spend two-plus hours each day on a bus to and from Southborough, as a child from this district had to do before Stepping Stone existed and as youngsters from other communities still do. This feature reduces stress immeasurably for children and families and saves the district money on transportation. "Special education directors have told me that if they have just three students who would otherwise be placed out of district, this program is a cost savings," says behavior analyst Amy Geckeler, director of consulting services for the New England Center.
The New England Center worked with Stepping Stone for five years before taking the model to other districts. "We wanted to see if it would be successful," Strully explains. Data showed that children in the Meetinghouse School program made significant progress on their individual education plans (IEPs), and they acquired skills at the same rate as students at the New England Center, which serves a more severely autistic population. Now the center operates fourteen preschool and elementary school classrooms in nine districts across Massachusetts, and at least a dozen more districts are exploring the option.
Jerry came to Stepping Stone in 2006 with a ten-word vocabulary. Now he speaks in three- to four-word sentences and spends two and a half days a week in a regular kindergarten. Another boy, who didn't speak and wasn't toilet trained and who used to crouch under the table much of the day when he enrolled in Stepping Stone at age three, is now on track for full inclusion. He started off visiting the Meetinghouse preschool just to say hello. Then he stayed for a snack. The next year, he went to the kindergarten for circle time, and later, he attended a few mornings a week. Now he's in a typical first-grade class with his tutor by his side. If all goes well, they'll phase out the tutor by year's end.
One morning last fall, the boy sat at a desk and opened his handwriting book like the other students to practice writing capital Ds. Through the first few, his tutor guided his hand -- straight line down, lift the pencil to the top, and curve out and around. Then he tried solo: D D D D D. He stopped, and she urged, "Write two more." He wrote them and looked up. "Will you show me your best one?" she asked the boy.
He smiled and pointed to a perfect D.
Fran Smith is a contributing editor for Edutopia.