3-5 Upper Elementary
Students Learn Environmental Lessons from a Green School Renovation
At Massachusetts's Atrium School (PK-6), the building itself is a learning experience.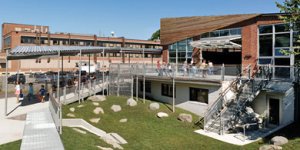 Credit: Anton Grassi/Esto
Grand Plan: The school'scovered entryway (once a parking lot) channels water to a collecting area, educating students about rainfall and runoff.
From the get-go, those in charge of finding and renovating a building for the Atrium School remained true to the school's credo of "Respect yourself, respect others" -- and, as was the case with the site's makeover, "Respect your environment."
This green-savvy consciousness prevailed right from the outset, when the decision was made to revamp an existing structure -- a former warehouse and bookstore offices -- in an industrial-residential area of Watertown, Massachusetts, rather than construct a new building from the ground up.
"Adaptive reuse is the most profound form of recycling," says the building's lead architect, Maryann Thompson, of Maryann Thompson Architects, in Cambridge. "Think of the hundreds of Dumpsters that would have been filled if we'd torn this down."
The decision to revamp rather than rebuild also helped the K-6 school's bottom line -- not insignificant in today's cash-strapped educational environment for public and private schools alike. Thompson estimates that the architectural and remodeling costs averaged $80 per square foot, compared to the $250 per square foot it would typically run in New England if starting from scratch. (Even though it's private, the Atrium School faces the same kind of financial constraints as its public school counterparts. More than 30 percent of the 80 students are on scholarships, and the school receives funding from state agencies that help low-income families.)
A Green Machine
The renovated Atrium School's design screams green throughout, from its use of natural light and air circulation inside to its landscaping and the way it recaptures storm water outside. In essence, the building itself serves as a teaching tool to educate kids about recycling, conservation, and sustainability.
Perhaps nothing exemplifies this function better than the transformation of the former warehouse portion of the school. This space, once used for storing books, now functions as the heart and soul of Atrium. It's here that students gather for events such as weekly assemblies and daily gym classes.
Located just off the entrance, this expansive -- nearly 56-foot-long by 54-foot-wide -- atrium takes one's breath away, with its exposed ceilings soaring more than 20 feet and cool cement floors mirroring the urban neighborhood outside. Facing south, one looks through floor-to-ceiling windows and a large garage-like glass door, previously used to access the loading dock. This wall of glass amply serves its intended purpose on a gray cold day as light streams in. During warmer months, the outside literally comes in when the garage door, windows, and overhead skylights open.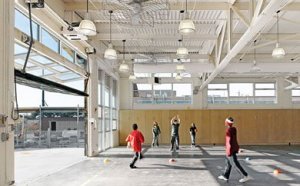 Credit: Anton Grassi/Esto
Dual-Purpose Space: Atrium's architects reduced materials and costs by turning a storage warehouse into a multipurpose room that serves as an open gymnasium (with fresh ventilation) or a closed space for assemblies.
The two other walls also contain banks of windows, including some near the ceiling, making for cooling cross-ventilation. In addition to providing a healthy environment, the natural ventilation combines with the use of warming outside light to reduce the building's energy costs by at least 25 percent.
Little Money and Time, Big Ideas
Those who were key to converting this once-drab site into a bright open space still seem a bit surprised they actually pulled it off, especially considering their budget and deadline. "We knew we had to move like lightning," recalls Jim Newman, leader of the school's building committee, whose two sons attended Atrium years earlier. "We couldn't be a bottleneck."
The committee -- consisting of Newman (who is trained as an architect), two faculty members, one of the school's directors, and the school board chairman -- had just one year to identify a site for the school and another one to design and renovate the structure. They also had a meager budget of $3.4 million with which to do it.
Confronted by these challenges, how did the committee swing it while also staying true to its green ideals?
They met weekly during the year prior to the building's completion in September 2006 and set commonsense goals guided by questions such as "What is necessary?" and "What is priority?" Driving all their decisions, and ultimately the design, was the school's green agenda. "A big part of that educational mission is respecting the environment," says Newman.
Given this mission, one might assume that a Leadership in Energy and Environmental Design (LEED) certification (developed by the nonprofit U.S. Green Building Council, composed of 18,600 building-industry leaders and organizations, that is considered the standard-bearer of greenness) would be a given for Atrium. However, when the committee considered its overall needs, this didn't seem the best route.
"I was concerned about overwhelming the contractor with our short time frame and not much money," explains Newman. "We also didn't want to add the process of LEED certification on top of that."
Instead, in the future, Newman says Atrium School will seek the certification status of LEED for Existing Buildings: Operations & Maintenance, which is determined by the actual performance of a building in terms of criteria such as energy use, water use, indoor quality, and storm-water management. "It certifies the performance of an existing building rather than the predicted performance," he says.
Keeping a Footprint Sparks Creativity
Although Maryann Thompson admits that architects tend to prefer open-space floor plans, when it came to reconfiguring the existing building's long hallway, her design team took its cue from the school's educators. "Teachers say students need discrete spaces," she says. The result? A modulated corridor zigzags and creates private areas between the classrooms. "This allows a child to discover things," says Thompson.
Rather than proving to be a limitation, maintaining the building's original footprint also presented innovative design possibilities.
For instance, because the expansive tresses that run across the ceiling carry the weight of the roof, none of the walls are load bearing. The architects took advantage of this feature by installing numerous windows on both the exterior and interior walls, allowing plenty of natural light throughout.
Instead of hiding these tresses, as well as other functioning elements of the building, such as the heating, ventilation, and air-conditioning system, the architects exposed them. From an educational standpoint, this approach provides a visible way for kids to see how buildings work. Another eye-catching feature of the HVAC system is that in some places, its ductwork is made not out of metal, which is typical, but out of cloth. This way, the students can actually see the HVAC system "breathing."
Green, too, are the materials used in the building, which were chosen to reduce contaminants and indoor pollution and lessen environmental impact. Lockers and storage cabinets are made of recycled wheatboard, which consists of newsprint and soy flour. This material's natural finish doesn't need painting and requires little upkeep.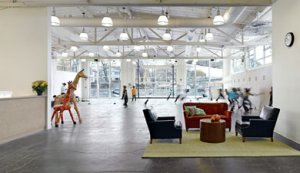 Credit: Anton Grassi/Esto
Light and Bright: Atrium'sreception area, also a multiuse space, allows an abundance of natural light, reducing the need for electricity. An environmentally friendly paint, low in volatile organic compounds, brightens the space.
Many of the building's features also conserve energy, from a lighting system with sensors that allow for maximizing the use of natural light to waterless urinals and low-flow dual-flush toilets that conserve water. Water-conserving features extend outside, particularly in capturing rainwater. Prior to the redesign, all rainwater was wasted -- either flowing directly into a sewer-system drain or running off into surrounding properties. Today, funneling water into underground holding tanks allows it to eventually percolate into the soil and remain on site.
"This is a big deal, because storm water in urban areas falls on the ground and typically ends up somewhere else," explains Newman. "What that means is that it never replenishes the aquifer."
Such scientific tidbits offer valuable lessons about the local water cycle for Atrium's students. Another hydro-related design feature allows them to enjoy rain in a very visceral (and aesthetic) way: Instead of guiding rainwater through a pipe, on one corner of the roof, water spills off to create a waterfall.
For Atrium students, the very building they occupy holds these lessons and many more about how to respect their environment. And for those who played a major role in designing that structure, the hope is that such lessons will stick. "To have that value system around them becomes a teaching tool," says Thompson. "It gets instilled in them, and hopefully the students live their lives in a way that is more conscious."
Evantheia Schibsted is a freelance writer whose work appears regularly in Edutopia. Her articles have also appeared in the New York Times, Wired, and other publications.
Go to "Green Building and Curriculum Resources for Teachers."