Assessment
What Are Some Types of Assessment?
There are many alternatives to traditional standardized tests that offer a variety of ways to measure student understanding.
In the early theories of learning, it was believed that complex higher-order thinking skills were acquired in small pieces, breaking down learning into a series of prerequisite skills. After these pieces were memorized, the learner would be able to assemble them into complex understanding and insight -- the puzzle could be arranged to form a coherent picture.
Today, we know learning requires that the learner engage in problem-solving to actively build mental models. Knowledge is attained not just by receiving information, but also by interpreting the information and relating it to the learner's knowledge base. What is important, and therefore should be assessed, is the learner's ability to organize, structure, and use information in context to solve complex problems.
"Assessment should be deliberately designed to improve and educate student performance, not merely to audit as most school tests currently do."

-Grant Wiggins, EdD., president and director of programs, Relearning by Design, Ewing, New Jersey
Standardized Assessment
Almost every school district now administers state-mandated standardized tests. Every student at a particular grade level is required to take the same test. Everything about the test is standard -- from the questions themselves, to the length of time students have to complete it (although some exceptions may be made for students with learning or physical disabilities), to the time of year in which the test is taken. Throughout the country, and with the passage of the Elementary and Secondary Education Act, commonly known as the No Child Left Behind Act (which requires research-based assessment), student performance on these tests has become the basis for such critical decisions as student promotion from one grade to the next, and compensation for teachers and administrators.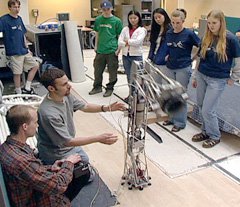 Students in Poudre High School's robotics program compete to build a better robot.
Standardized tests should not be confused with the standards movement, which advocates specific grade-level content and performance standards in key subject areas. Often, in fact, standardized tests are not aligned with state and district content standards, causing considerable disconnect between what is being taught and what is being tested.
In the spring of 2009, an initiative was created to develop a set of standards for all states in the United States to adhere to. The Common Core State Standards Initiative (CCSS), as it has become known, is still an evolving movement. The vast majority of states have pledged to adopt the standards and implement them by 2015. Standards for English language arts and mathematics were published in 2010, while standards for science and social studies are still in development. Visit Edutopia's Common Core State Standards Resource page for more information about the standards.
The questions then become: What is evidence-based assessment? Is it standardized tests? Is it portfolios? If portfolios are a part of evidence-based assessment, what else is necessary? Reflections? Work samples? Best work?
"If assessment is to be a positive force in education, it must be implemented properly. It cannot be used to merely sort students or to criticize education. Its goals must be to improve education. Rather than 'teach to the test,' we must 'test what we teach.'"

-Lockwood and McLean
Alternative Assessment
Alternative assessment, often called authentic, comprehensive, or performance assessment, is usually designed by the teacher to gauge students' understanding of material. Examples of these measurements are open-ended questions, written compositions, oral presentations, projects, experiments, and portfolios of student work. Alternative assessments are designed so that the content of the assessment matches the content of the instruction.
Effective assessments give students feedback on how well they understand the information and on what they need to improve, while helping teachers better design instruction. Assessment becomes even more relevant when students become involved in their own assessment. Students taking an active role in developing the scoring criteria, self-evaluation, and goal setting, more readily accept that the assessment is adequately measuring their learning.
Authentic assessment can include many of the following:
Observation
Essays
Interviews
Performance tasks
Exhibitions and demonstrations
Portfolios
Journals
Teacher-created tests
Rubrics
Self- and peer-evaluation