School Libraries
Ask Ellen: Vision in the Library
How can I make my media center the hub of learning in our school?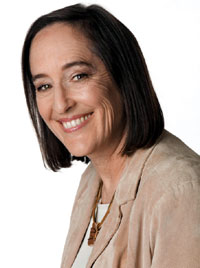 Credit: Bart Nagel
Dear Ellen:
I have a beautiful library and really enjoy my job, but I feel that students and teachers are not using the facilities to their fullest potential. We have some students checking out and reading fiction, but not as many as we should for a school population of 1,060. Most student research is done online, and my computer lab is usually booked.
My goal is to update my nonfiction and reference books, but I'm having trouble deciding whether investing money in a lot of print material is a good idea. So far, very few teachers have used our professional section or asked to work on a collaborative project.
I attend conferences, read professional literature, and visit other media centers, but I am still having difficulty clarifying long-term goals and a vision for what I would like my media center to be in the next five years. Am I the only librarian with this problem? I want to be the hub of learning in our school, but I need some guidance. Any suggestions?
Library Media Specialist
Dear Library Media Specialist,
It sounds as if you have a dream and the passion to make the media center a vital, thriving "hub of learning," as you call it. From what you say, you've been challenged to find a way to meet that goal, despite all of your professional development, the models you've seen, and the efforts you've made. Your frustration is understandable.
You say you feel isolated ("Am I the only librarian with this problem?"), and, of course, you're not. But our profession has long been disjunctive, with few, if any, opportunities for educators to connect with their colleagues' work. At the New Teacher Center, we put great stock in collaborating. We promote it in our mentoring and in our work with one another.
Let me suggest you first reach out to all the stakeholders in the school and let them help you create a vision for a media center that attracts and serves a thriving learning community. You don't have to bear the burden of creating a flourishing media center alone.
In your role as the school's media specialist, you're in a position to lead. You could arrange to meet with administration and key representatives -- students, teachers, and parents -- to fashion the vision collaboratively. You might share what you've found that works and what you've found engaging. Eventually, you'll need to bring that shared vision to the school community, where it could be modified further, if necessary. This is a promising opportunity for schoolwide professional development.
Begin at the end, envisioning the outcome you want in considerable detail, and then devise steps to get there. You might ask, "How do I imagine a media center that really is the hub of learning? What sort of impact would it be having? What might I see happening in such a media center?"
The popularity of the computer lab is telling; it suggests there's a hunger for information at your school. Because people don't know what they don't know, you can use your knowledge of the media to provide access to even more information.
You may find that what's happening in the computer lab can be complemented by programs and centers available in the rest of the library. Supplementary offerings could include author studies, book talks, and readings (perhaps connected with local author appearances); a primary-texts station, where students find sample media that can inform text-based studies, as well as facsimiles of historic documents and artifacts that enhance scientific literacy and numeracy; and other hands-on experiences that can build on what students are discovering online and through in-class learning. Perhaps teachers and students could display their course-developed artifacts in the library so others can see and learn from them.
Credit: Bart Nagel
You're competing for the attention of many busy people, so your work is cut out for you; but it's a challenge you seem ready to rise to. It takes a leap of faith to step outside your own familiar territory and stand in front of colleagues as a leader.
In the past, possibilities of real leadership for teachers have been too few. But the profession is changing to become more collaborative and collegial and your question is rich with opportunities to lead your school community in transforming your media center.
Thank you for your question, and good luck.
Best wishes,
Ellen Moir is a veteran bilingual teacher who is focused on the challenges faced by new teachers as well as on the needs of those with long careers in education. She is also the executive director of the New Teacher Center, at the University of California at Santa Cruz, a resource for educator-induction research, policy, and practice.
Bewitched? Bothered? Bewildered? Ellen Moir is here to help. Write her at askellen@edutopia.org, and please include your name, affiliation, and contact information.