Classroom Management
A Tool Kit for Substitutes
Filling in for an elementary teacher can be easier when substitutes have flexible go-to strategies to keep the class running smoothly.
When I used to substitute across the grades in my large district, I developed a tool kit for any situation, in case a set of sub plans was not waiting for me. It was a sort of one-day emergency tool kit for any occasion. With the substitute teacher shortage, you might find yourself in a new classroom without any substantial sub plans. The following tips may help you out.
Tip 1: Learn Student Names
Kids in K–6 need you to know their names. Period. Do this no matter what the teacher has planned, and do it first. If they have name tags, great. If there's no seating chart to use for reference, walk around and memorize them as quickly as you can. For upper-grade classrooms, I like to bring students to the rug in a circle to play a name game. Right from the start, and whenever possible, call out a few names of children here and there, praising them for being role models for something as simple as how they are sitting or how they are working.
Tip 2: Give a Collaborative Writing Lesson
When you've got no writing plans, one of the best writing lessons in my tool kit is to let kids write collectively. I call this activity "shared" story circles. Here's how I do it, and credit to the professor at National University who taught it to me. You can use a book like The Mysteries of Harris Burdick or give students fun writing prompts, or discuss and diagram the five parts to a story. Use a simple story that they all know, and dissect the story into five parts using the diagram. Start by asking the students for a story the class knows. First graders may have just read a fairy tale like "Little Red Riding Hood" together. Third graders, Because of Winn-Dixie. So long as they all know it, it's perfect to use as an example.
Have each student take out a piece of paper. Set a timer for anywhere between 3 and 10 minutes, and tell the class to write their own exposition. You may want to be flexible on time and ask kids if they need more time in a particular section. Trust me, they'll tell you. After a few minutes, when most kids look like they've got the beginning down, have them switch papers. Now the person on their right will add a rising action to their exposition while someone does the same to theirs.
Continue rotating papers into climax, falling action, and the epilogue, reminding kids before each writing period about what each section may include. As you walk around checking in on kids, you may want to pause them and return to the story chart if you see any confusion about what part of the story they are writing.
After four rotations, you'll have a table full of stories written by the entire group together. It's loads of fun and really engages kids. Plus, I find that kids enjoy sharing once they've reached the last rotation. They especially love to read their favorites to the whole class after reading in small groups. For the littles, you can have them fold paper into six sections and draw pictures of their story for each part.
Tip 3: Play the One Dollar Word Game
Missing an adequate math game? The One Dollar Word Game is a good option. The object of the game is simple. Build a word assigning points according to where its letters are in the alphabet. For example, my name is Thomas. It's worth: .20 + .08 + .15 + .13 + .01 + .19 = .76. Not a bad sum, but not a one dollar word. Create a competition by offering table points or any other positive incentive left by the teacher, and you've got a class engaged in an activity that's great for any students to practice.
For fifth grade, I recommend keeping the goal at 1.00, while with second through fourth grades you can simply make it a 100-point word, and with K–1 you can ask them to find 10- to 40-point words while offering blocks and a small word bank of words to choose from.
Tip 4: Use Mr. Courtney's SURFING Reading System
Reading can be more fun for students when they get to bend the rules a little. Doing that often gives students the nudge they often need when the teacher is gone. I call this SURFING, or Sustained Uninterrupted Reading for Fun Ignoring Normal Guidelines. Basically, kids get to read wherever they like and in ways that feel fun to them, such as under the table or using their friend's back as a pillow. They might decide to sit backward in their chair or under the sink behind chairs.
The students and I quickly work out a minimum and maximum of rule bending, and then of course I make clear that so long as everyone is reading, SURFING may continue. It's a great filler here and there, and the kids generally love doing it. A great version of SURFING is to take them outside under trees, on the grass, etc.
Tip 5: Try Doodle Art
Your go-to art lesson can be one that kids won't want to stop doing.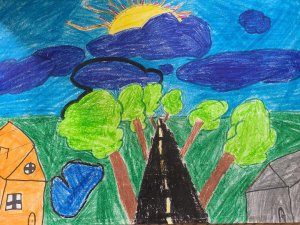 Courtesy of Thomas Courtney
Each student gets a paper and draws a doodle.
Doodles can't take more than 2 seconds to draw. For K–2, I usually draw the doodles myself.
Partners swap papers. Kids must then turn the paper around and around and find a picture to draw that incorporates the doodle in it. I remind kids that the picture they see may extend beyond the limits of the paper, and also teach them to consider the background once they typically finish coloring in an object. Kids enjoy this activity, and many will want to do a second one.
Tip 6: Have a Go-to End-of-Day Game
At the end of classroom cleanup, don't forget to reward your students with a game of Heads Up, Seven Up! or perhaps Silent Ball while sitting on their desks. I bring a beach ball for the latter.
Always remember to leave a note for the teacher detailing the day's many good things and fewer of the issues. Learn as much as you can while you're filling in for teachers, and before long, you'll have enough of a tool kit to brave any classroom all year long.